French parliament's left parties to discuss vote of no confidence against government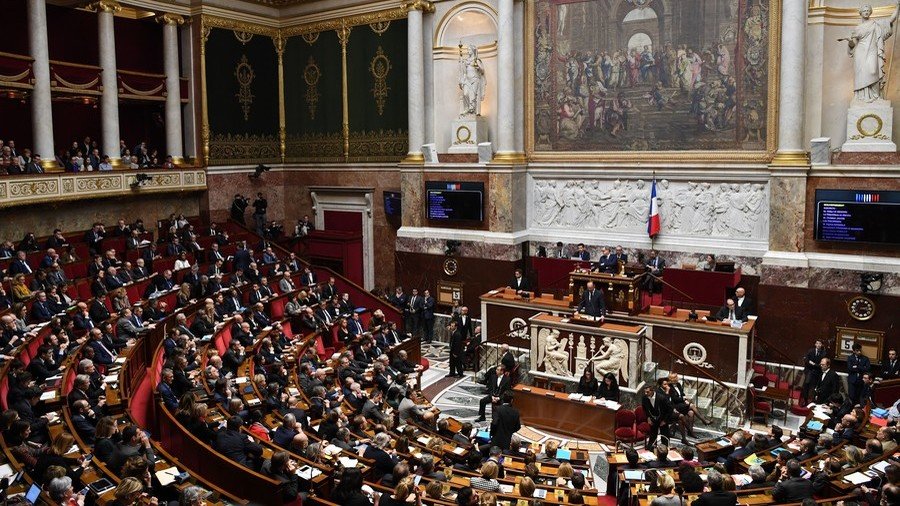 At least three left-wing parties at the French parliament have agreed to discuss a vote of no confidence against the government amid sweeping protests, against Macron's policies, which have gripped the country.
Among those planning to question Emmanuel Macron's leadership is La France Insoumise party whose leader Jean-Luc Melenchon has long been a vocal critic of the current government.
READ MORE: 5 striking VIDEOS that reveal the violence & compassion of France's Yellow Vest protests
The French Communist Party and the Socialist Party, which ruled the country before the 2017 presidential elections, have also confirmed to be in on the plan.
"We've decided to work together to file a no confidence vote [to the government] next Monday. During the coming days, we will seek to increase the number of signatories. We have to show that other ways are possible," First Secretary of the Socialist Party Olivier Faure wrote on Twitter, using the hashtag #GiletsJaunes (Yellow Vests).
Nous avons décidé de travailler ensemble au dépôt d'une motion de censure lundi prochain. Pendant les jours qui viennent, nous chercherons à élargir le périmètre des signataires. Il faut montrer que d'autres voies sont possibles. #GiletsJaunes#directANpic.twitter.com/x7U9uoVlDf

— Olivier Faure (@faureolivier) December 6, 2018
The vote, however, is unlikely to change the political landscape in the parliament, since Macron has a constitutional majority. His LREM party holds over 300 of the 577 seats in the National Assembly. The trio of parties that decided to question the leader have only 57 seats.
France is currently in turmoil following almost three weeks of unending rallies. What started as a spontaneous rebellion against fuel price hikes and unpopular reforms carried out by Macron, has gradually grown into one of the most stubborn challenges for the president and swallowed up the whole country.
Also on rt.com
Yellow Vest rallies target govt, not gas prices – French analyst to RT
The rallies held under the motto "on the way to Macron's resignation" caught the president off-guard in his 18 month in the top job. His approval ratings stand at barely 25 percent as many French citizens view him as elitist and out of touch with the common folk, who are unhappy with many of his reforms, such as tax relief for businesses and cuts to pensioners' benefits.
A rally on December 1 was mired in violence and saw over 130 people injured and more than 400 arrested. Four people, including an elderly woman, died amid the fierce clashes between rioting demonstrators and police.
READ MORE: 'Out of touch': Protesting French people want to be heard – but gov't does not listen
Finally, the French government had to concede and dropped the fuel tax hike plan – at least for the 2019 budget.
Macron's handling of the protests and his proposed reforms have angered many opposition parties in parliament. Melenchon has repeatedly called upon the presidency to abolish the fuel tax. "It's time for the rich to be in solidarity [with people]," he said earlier. Faure also lashed out at the government on several occasions, calling for "tax justice" and a "fight against social and territorial inequalities."
Think your friends would be interested? Share this story!
You can share this story on social media: