Putin high-fives MBS at G20, but did he shake Trump's hand? (VIDEO)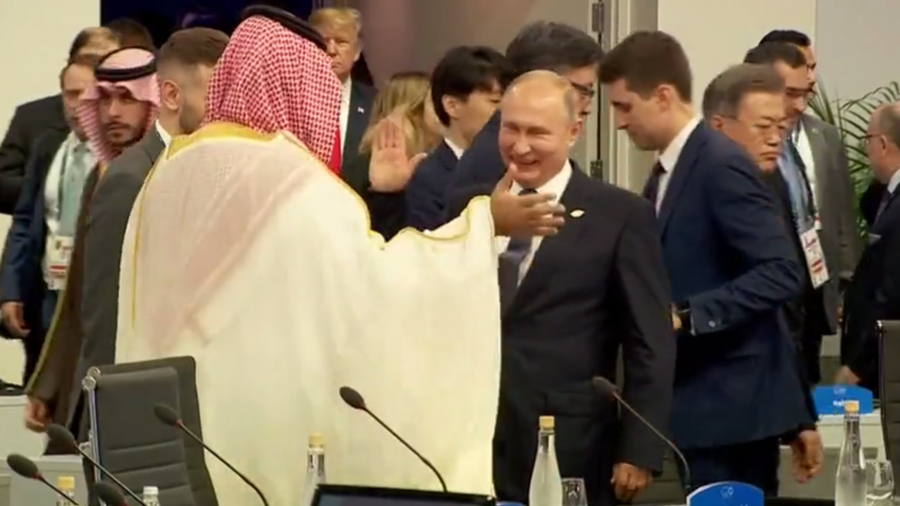 Russian President Vladimir Putin was seen giving a high-five to Crown Prince Mohammed bin Salman of Saudi Arabia, but the moment of a possible handshake with US President Donald Trump was cut out of the live feed.
Those watching the live broadcast from the ongoing G20 summit in Argentina were left guessing whether Trump and Putin, whose official meeting got canceled earlier, even said hello to each other. As the leaders were lining up for a traditional 'family photo', Trump was seen walking towards Putin – but at the last possible moment, the feed was cut to a closer shot of a different group. The wide shot was back a few moments later, when Trump was already in his spot further down the line.
Watchers were left without this crucial morsel of body language right after Trump announced he would not meet Putin officially, as he had planned to, citing the recent Russia-Ukraine navy scuffle off the Crimean shores. The Kremlin says the two will still have a chat on the sidelines, which the White House hasn't confirmed or denied.
As they were sitting down for talks after the family photo, though, the cameras did catch Putin greeting another world leader: Saudi Crown Prince Mohammed bin Salman, seated next to the Russian leader, was treated to a hearty high-five.
The seemingly grumpy-looking Turkish foreign minister in the background wasn't amused though – or at least didn't look like he was in this coincidental screenshot of him looking around.
Subscribe to RT newsletter to get stories the mainstream media won't tell you.
You can share this story on social media: