From tourists to journalists: Kiev bans foreigners from entering Crimea via land border with Ukraine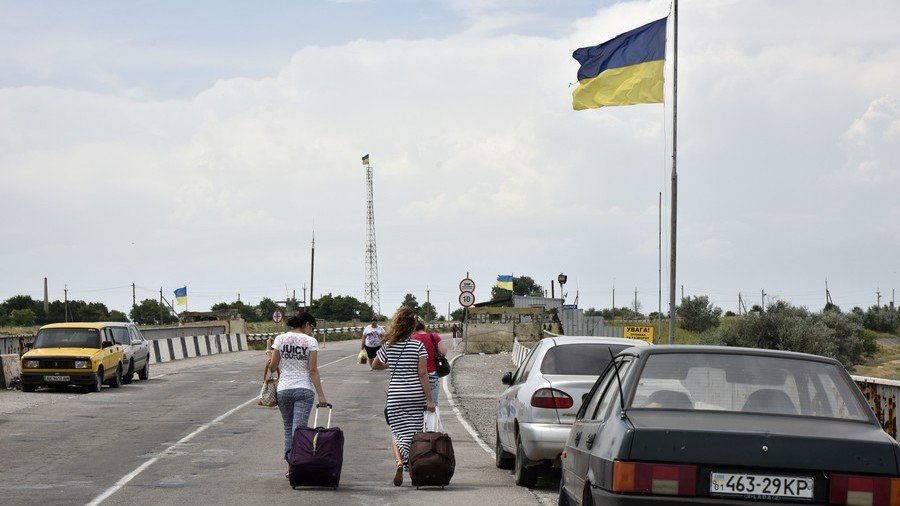 Ukraine remains under martial law following the clash between Ukrainian navy ships and Russian coast guard vessels in the Kerch Strait. Kiev has now banned foreigners from entering Crimea through its border with Ukraine.
All non-Ukrainians will be barred from entering Crimea from the Ukrainian land border, according to border guards cited by AP. It is still possible to fly into Crimea from Russia or to enter via the bridge from Russia's south, though Ukraine claims that is a violation of its borders.
The move is one of several restrictions that have come into effect after President Petro Poroshenko introduced a one-month period of martial law earlier this week. On Wednesday, he assured his own citizens that they wouldn't face restrictions on travel or cash withdrawals, but said Russians would be subject to constraints.
"There will be restrictions regarding Russian citizens, which I believe are quite justified," he tweeted, while declining to elaborate. Ukrainian authorities have already denied entry to Russians following the weekend clash in the Kerch Strait.
Не треба бігти до крамниць і скупати сірники та сіль. Ніяких обмежень на зняття депозитів, операцій з обміну валют, поїздок за кордон для українських громадян не буде. Для російських громадян ці обмеження будуть введені. І я думаю, що це цілком виправдано. pic.twitter.com/D9ohxiiInX

— Петро Порошенко (@poroshenko) November 29, 2018
The Kerch Strait standoff began when Ukrainian navy vessels attempted to sail between two Ukrainian ports via the waterway, which runs between Crimea and mainland Russia. Kiev claims it notified Russia in advance that its ships would be passing through the area, but Moscow denies being given a warning.
Russia's Federal Security Service (FSB) has noted that the waters entered by the Ukrainian ships had belonged to Russia even before 2014, when Crimean citizens voted in a referendum to reunify with Russia. It also said that two officers from the Ukrainian security service (SBU) were embedded within the ships to coordinate the incursion. Russia opened fire on the vessels and detained the ships and those on board.
In a statement, the FSB called the incident a "provocative act of the Ukrainian Navy, executed on direct orders by the government in Kiev."
The FSB has also released footage of three men identified as Ukrainian service members who had been on the ships. In the video, the men are speaking on camera in detention. They said their crews intentionally violated Russia's maritime borders and ignored orders to stop.
The incident occurred about two months after two Ukrainian naval ships passed through the Kerch Strait legally and without incident, passing under the arch of the Crimea bridge after giving notice that they would be doing so. They were accompanied by Russian warships without any problems, according to Moscow.
While both Russia and Ukraine have freedom of navigation in the Kerch Strait under a 2003 treaty, there are detailed rules on how vessels should pass through the narrow waterway.
Think your friends would be interested? Share this story!
You can share this story on social media: