Anti-Semitism? 'Migrants' throw firecracker at Israeli journalist in Berlin (VIDEO)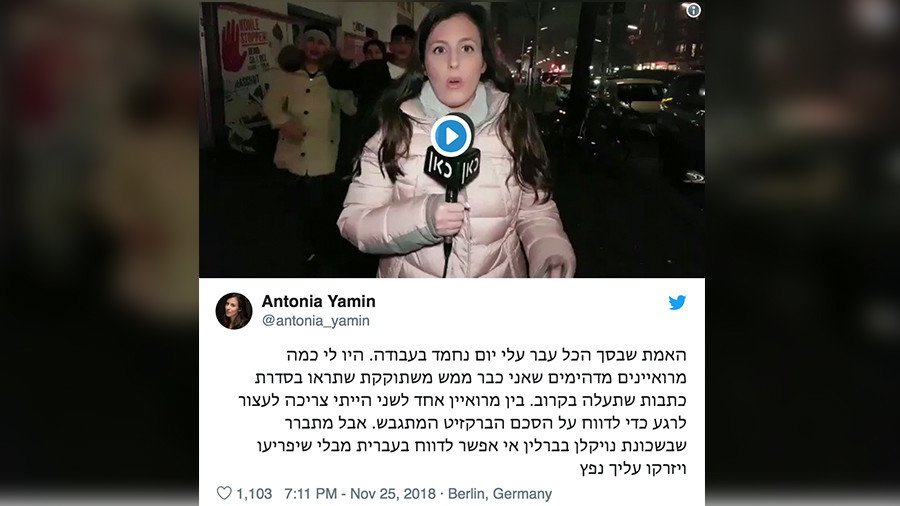 A group of suspected migrants threw a firecracker at an Israeli journalist, reporting in Hebrew, in Berlin. It's being investigated as a potential case of anti-Semitism and the reporter says she now feels uneasy in the city.
Antonia Yamin, a correspondent for Israel's Kan public broadcaster, was filing a Hebrew-language report from Berlin's Neukölln district when she was interrupted by a group of young men.
A video shared by Yamin on Twitter shows the group harassing her, before she abruptly runs off screen. The disoriented camera operator then reveals that a firecracker had been thrown at them, landing on the ground nearby.
האמת שבסך הכל עבר עלי יום נחמד בעבודה. היו לי כמה מרואיינים מדהימים שאני כבר ממש משתוקקת שתראו בסדרת כתבות שתעלה בקרוב. בין מרואיין אחד לשני הייתי צריכה לעצור לרגע כדי לדווח על הסכם הברקזיט המתגבש. אבל מתברר שבשכונת נויקלן בברלין אי אפשר לדווח בעברית מבלי שיפריעו ויזרקו עליך נפץ pic.twitter.com/1TKJqora5b

— Antonia Yamin (@antonia_yamin) November 25, 2018
Yamin described her assailants as "not older than 18 or 19" and having "migrant background."
She believes that she may have been targeted because the group heard she speaking Hebrew and noticed that her microphone had large Hebrew letters. In an interview with Haaretz, the Israeli journalist disclosed that she feels uneasy working in Neukölln and other Berlin districts where "it is not particularly safe to be recognized as an Israeli or Jew."
In a series of follow-up tweets, Yamin denounced the men, saying that regardless of their motive, they are abusing German hospitality.
"I often set myself higher standards of behavior - because that's what guests in a country are supposed to do," Yamin wrote.
The incident comes amid a reported uptick in anti-Semitic and other hate crimes in Germany.
Figures released by the German government in August showed that anti-Semitic crimes have increased by 10 percent. After a Jewish man wearing a kippah was belt-whipped by a Syrian migrant in Berlin, German Chancellor Angela Merkel vowed in April to take all actions necessary to end "anti-Semitic acts," warning that the "reputation of our state is at stake."
In November, Jewish leaders in Germany suggested that migrants should be required to attend integration classes in order to combat the rise in anti-Semitic attacks.
Like this story? Share it with a friend!
You can share this story on social media: