French army eyes hoverboards for future wars (VIDEO)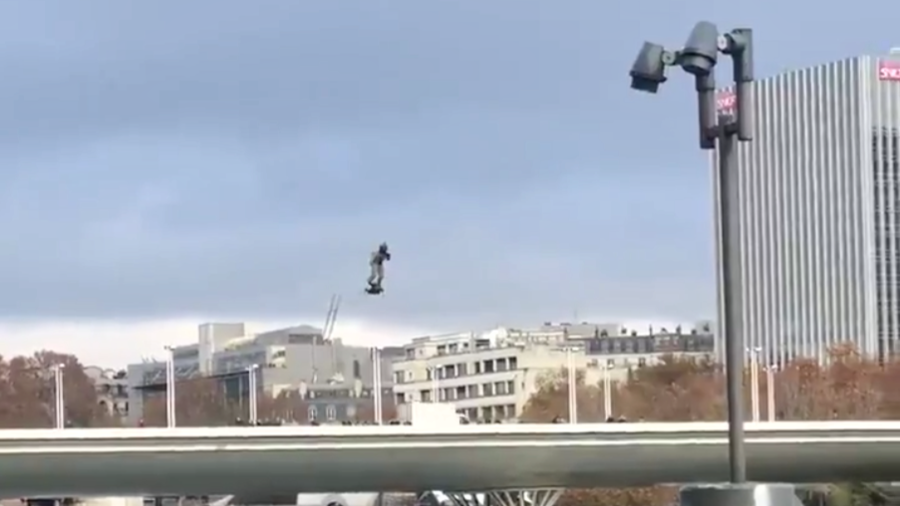 A man flew over the rooftops of Paris before swooping over the river Seine and zipping through the air like a superhero. It wasn't Superman, but the inventor of the hoverboard demonstrating its prowess and military potential.
The spectacular show took place at the Defence Innovation Forum held in Paris this weekend. "This is a military hoverboard," French Secretary of State for Digital Affairs Mounir Mahjoubi tweeted as he shared footage of the show. "Our army must always be at the forefront of innovation."
The man riding the novel creation was none other than Franky Zapata, the inventor of the first functional hoverboard, the Flyboard. The French army has just given him a €1.3 million ($1.47mn) grant to develop an aeronautical micro-jet engine that can be used by the military.
From accessing difficult to reach places to evacuations and even firing weapons, a hoverboard has plenty of potential in combat situations.
"Innovation in action with this demonstration flyboard this morning over the Seine: enough to give ideas to our special forces!" Secretary of Defense Florence tweeted, "preparing tomorrow's battles is essential."
L'innovation en action avec cette démonstration de flyboard ce matin au dessus de la Seine : de quoi donner des idées à nos forces spéciales ! L'innovation n'est ni un gagdet, ni une posture : préparer les combats de demain est indispensable. https://t.co/SCl2WNibqm

— Florence Parly (@florence_parly) November 24, 2018
Zapata originally created the board as a civilian mode of transport but nonetheless he said he is "very proud" to work with the army.
Like this story? Share it with a friend!
You can share this story on social media: