Dolce & Gabbana beg for forgiveness after 'racist' ad triggers backlash in China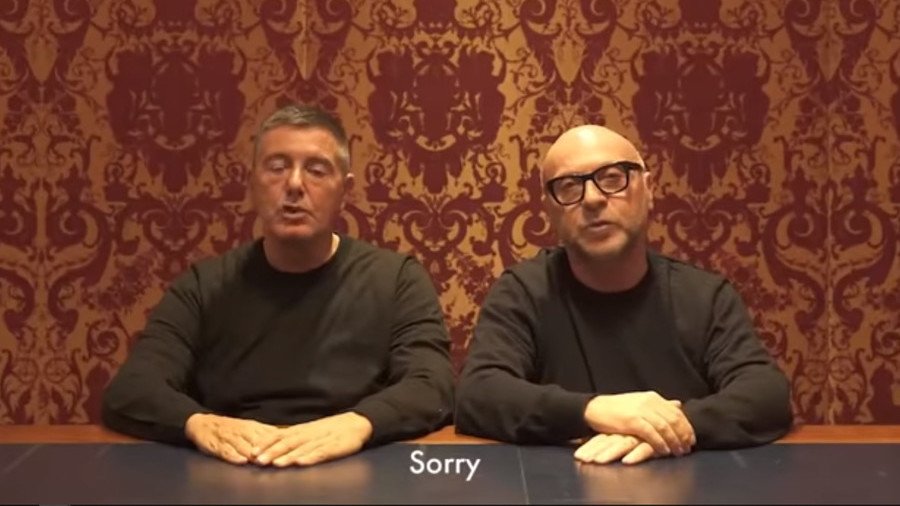 The founders of Italian fashion house Dolce & Gabbana have apologized to China, after a 'racist' ad saw the company dumped by Chinese retailers and boycotted across Chinese social media.
In a video posted to Chinese social network Weibo on Friday, Domenico Dolce and Steffano Gabbana begged for forgiveness from the Chinese, who are responsible for around 30 percent of the whole world's luxury goods purchases.
No wonder, then, that Dolce and Gabbana closed their apology video by saying "sorry" in Chinese.
"We love your culture and we certainly have much to learn. That is why we are sorry if we made mistakes in the way we expressed ourselves," Dolce says to the camera.
"We will never forget this experience and it will certainly never happen again," Gabbana added. "From the bottom of our hearts, we ask for forgiveness."
The furor kicked off earlier this week, when the company attempted to kick start its 'D&G Loves China' campaign with a humorous ad. The three-part ad featured an Asian model trying and failing to eat Italian food with chopsticks. The woman giggles as she attempts to eat pizza, spaghetti and a large cannoli. A male voiceover repeatedly suggests that the cannoli is "too big" for her to handle, prompting one Instagram commenter to write that the "offensive sexual innuendos are blatant."
However, Chinese audience saw racism and not sexism in the ad, with luxury goods website Jing Daily accusing it of "trivializing China's centuries-old culture and depicting Chinese women in a stereotypical and even racist way."
Weibo deleted the ads from its platform, and the 'Boycott Dolce' movement sprung up in their place. In scenes reminiscent of the Nike boycott in the US this September, social media users filmed themselves trashing D&G products and even burning the brand's exorbitantly priced shoes.
An Instagram post by Gabbana only added fuel to the fire, with the fashionista seemingly calling Chinese people an "Ignorant Dirty Smelling Mafia" who eat dogs. Gabbana insisted his account was hacked, but a D&G fashion show due to take place in Shanghai on Wednesday was canceled, and a slew of major Chinese retailers dropped the brand from their stores and websites by Thursday.
If D&G manages to save face in China, the rewards could be immense.the Chinese consume one third of the world's luxury goods, perhaps even more if purchases made abroad are taken into account.
Like this story? Share it with a friend!
You can share this story on social media: