Germany fully halts arms exports to Riyadh & hits 18 Saudis with travel bans over Khashoggi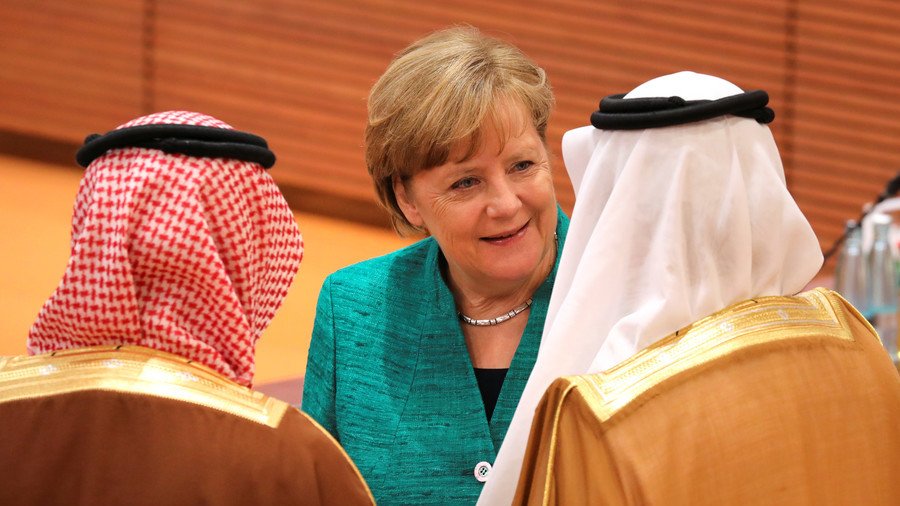 Germany has imposed travel bans on 18 Saudis suspected of involvement in the killing of journalist Jamal Khashoggi last month, after its economic ministry confirmed all the arms deals with Riyadh have been fully canceled.
The country's foreign ministry announced that the sanctions were imposed in coordination with France and Britain. The 18 individuals will be banned from entering all 26 Schengen Area countries.
FM @HeikoMaas: Still more questions than answers in #Khashoggi case. Have aligned our actions closely with those of France and UK. Germany has initiated procedures to bar 18 Saudi nationals allegedly connected to the crime from entering Schengen. pic.twitter.com/XyX63hz138

— GermanForeignOffice (@GermanyDiplo) November 19, 2018
None have been named due to German privacy law, but the list more than likely includes some of the same individuals sanctioned by the US government last week. Among those sanctioned by the US are Maher Abdulaziz Mutreb, who Turkish authorities believe led a 15-man 'kill team' to Istanbul to murder Khashoggi, Saudi Consul General Mohammed Alotaibi, and Mustafa al-Madani, a middle-aged man who was seen leaving the Saudi consulate after Khashoggi's death, wearing the deceased journalist's clothes.
The news came almost one month after German Chancellor Angela Merkel announced her country would stop supplying weapons to Riyadh "under current circumstances" – referring to the investigation into Khashoggi's death.
Before the halt, Germany had approved arms exports worth €416.4 million ($475.7) to Saudi Arabia this year. That number makes Saudi Arabia its second-best arms customer, after Algeria, according to Deutsche Welle.
Now it's been confirmed that "there are currently no exports from Germany to Saudi Arabia," a Ministry of Economics spokesman said on Monday. Even those arms shipments approved before Merkel's announcement last month have now been halted.
The German government has "influenced the holders of individual licenses" to completely stop any arms deliveries to Saudi Arabia, the spokesperson said, adding that the exports were stopped with "various instruments" but revealing no further details.
In October, Merkel called on Germany's European allies to follow suit and cut off arms sales to the Kingdom. While Norway and Spain have canceled weapons sales as well, French President Emmanuel Macron has refused to take a leaf out of Merkel's book. Saudi Arabia is the second-biggest purchaser of French arms, with ongoing deals for tanks, munitions, artillery and armored vehicles worth over 11 billion euros ($12bn).
In the US, President Trump has said it would be "foolish" to scrap his country's ongoing $110 billion arms deal with the Saudi government, despite mounting calls from either side of the political spectrum to do so.
READ MORE: 'It's a suffering tape': Sensitive Trump says he won't listen to audio record of Khashoggi killing
Trump has condemned the killing but has not endorsed claims that it was ordered by the Saudi Crown Prince Mohammed bin Salman himself. Trump called the media reports – saying the CIA has concluded "with high confidence" that MbS ordered Khashoggi's assassination – "very premature," and said that the US government will release its own report in the coming days.
Meanwhile, Trump seemed to also confirm the existence of a tape revealing Khashoggi's final moments, before he was said to be brutally murdered and dismembered. Calling it "very violent, very vicious and terrible," he told Fox News: "We have the tape. I don't want to hear the tape. No reason for me to hear the tape."
Like this story? Share it with a friend!
You can share this story on social media: