Ukraine's far-right mob use tear gas, assault transgender parade in Kiev (PHOTO, VIDEO)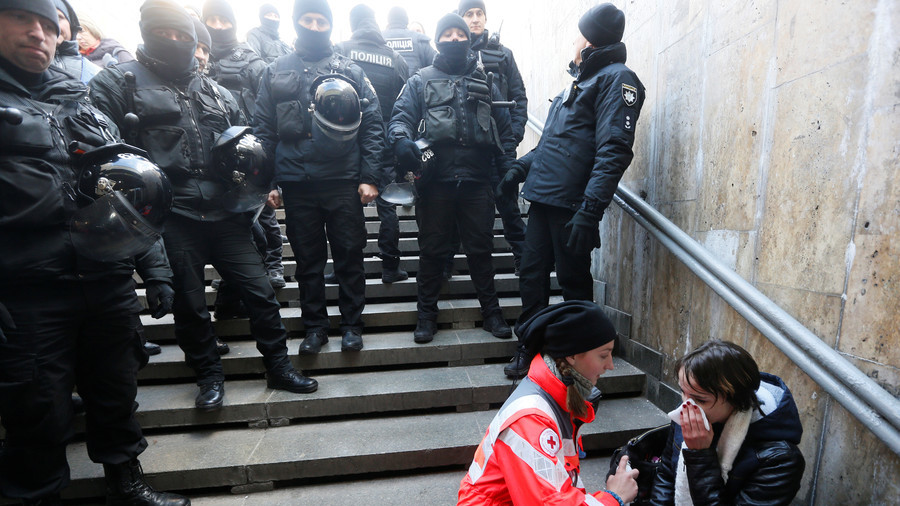 Ultra-nationalist mobsters thwarted a transgender parade in the Ukrainian capital Kiev, spraying tear gas at participants and brawling with riot police who apparently failed to protect the gathering, local media reported.
Ukrainian LGBT activists planned to march through downtown Kiev on Sunday, but the event – intended to commemorate transgender victims of hate crime – never took place. As people began to gather outside one of the city's metro stations, they were confronted by far-right radicals, who had previously threatened to target the parade.
At one point, a nationalist mobster used pepper spray on the LGBT crowd, injuring two people, according to local media.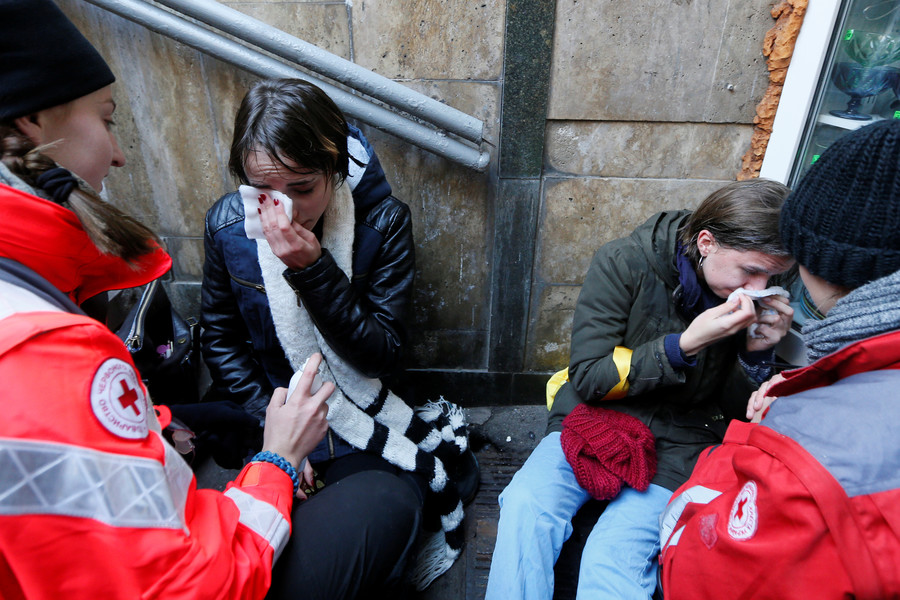 The standoff became more violent when the radicals began throwing smoke bombs at the activists. The attackers were also heard yelling nationalist slogans such as "Glory to the nation, death to the enemies," and "Ukraine above all."
There was a large police presence at the event, but when the situation became more tense, the security forces seemed incapable of separating the two groups.
The event in support of transgender people coincided with a massive counter-demonstration organized by radicals in central Kiev. In the middle of the far-right rally, an unknown assailant attacked a reporter from Ukraine's NewsOne outlet, spitting in the man's face live on air.
In a separate incident last September, a female NewsOne reporter was hit in the face in Kiev, while reporting on another right-wing protest.
But the radicals didn't only target the Ukrainian media; foreign journalists were also attacked. Canadian reporter Michael Colborne said on Twitter that he was punched in the face and had his glasses smashed by the far-right mob, who told him to "go back to my own country."
Far-right groups, which played a key role in the violent 2014 coup in Ukraine, don't seem to be losing their influence amid worsening economic downturn and radicalization of the country's politics.
The ultra-nationalist thugs have no qualms about using violence against those who they consider enemies, including LGBT activists, ethnic minorities and media representatives, who they claim support Russia.
As Ukraine is seeking closer ties with Europe, the country's authorities have officially pledged their support for sexual minorities, and have advocated LGBT rights.
Previously, the Ukrainian parliament approved an anti-discrimination law banning sexual-orientation discrimination at work, but those measures seem to have had little impact on the ground.
No LGBT public event in the country occurs without provocation by nationalists. A gay parade in Kiev this June was called off after just 20 minutes, as more than a hundred radicals tried to attack the activists. They shouted "Shame on you" and "Ukraine is no Sodom," as they clashed with police, resulting in more than 50 arrests.
Like this story? Share it with a friend!