'Wrong on so many levels': Priest paraded through town in Porsche pulled by children (VIDEO)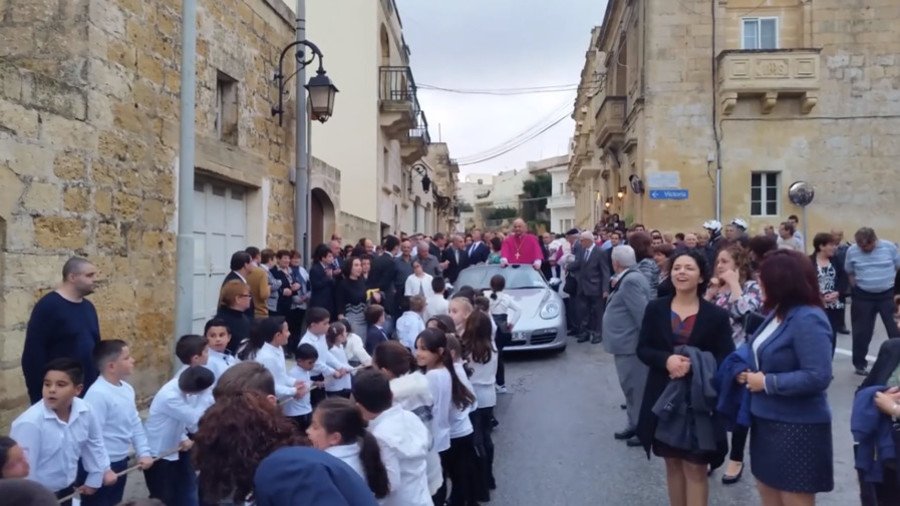 A newly appointed parish priest is being accused of using his stature to put on a "ostentatious" public display, during which children were seen pulling a Porsche through the streets of a Maltese town with the clergyman inside.
Fr John Sultana, who this week was named the new parish priest for Gozitan community, Malta, was honored with a traditional parade by local followers. However, the pastor's use of a rather luxurious vehicle and manner in which he was heralded into his new role has drawn widespread criticism.
Footage showing Fr Sultana standing inside a convertible Porsche as lines of children pulled the Porsche Boxster through the streets of Żebbuġ has been labelled by some as "crass" and unbefitting of a representative of the Catholic Church.
READ MORE: Revenge served in pink: Glamorous girl axes Porsche and sprays 'bastard' on it (VIDEO)
However, Fr Sultana has suggested that the incident has been blown out of proportion and he hit out at comments criticising the event. A spokesperson for Gozo Curia, the Catholic Church in Malta, further added that the priest did not have a say in the finer details of the traditional priest parade.
The Catholic priest has found an ally in local councillor Sandra Grech, who defended Fr Sultana, adding that the "unique feast," was welcomed by everyone in the town.
The joy has not been shared by people online, though. While the event has been explained as a tradition, commentators have lambasted the use of the car, as well as the fact children were filmed dragging the vehicle.
READ MORE: Priest loses temper & slaps toddler during baptism (VIDEO)
"The epitome of bad taste and crass ostentation," said Facebook user Marlene Mizzi. "Disgusting, actually. What on earth were they thinking?"
A second commenter added: "This is wrong on so many levels."
"What stupidity. Should have walked with the children," another Facebook denizen added.
Down the rabbit hole..children pulling a priest in a Porsche..absolutely surreal

— Alice I N Wonderland (@MAdHatters4Tea) November 13, 2018
Jesus sat on a donkey when entering Jerusalem...,, but the parish priest prefers a Porsche !😲

— scramble58 (@j_scramble58) November 13, 2018
Another said that "people are too quick to judge, if something does not conform to their societal ideals, it is labelled as wrong and unorthodox."
However same person admitted that "the Porsche might have been excessive."
If you like this story, share it with a friend!
You can share this story on social media: