Kiev's push to split from Russian Orthodox Church will boost 'nationalism' & 'chaos' in Ukraine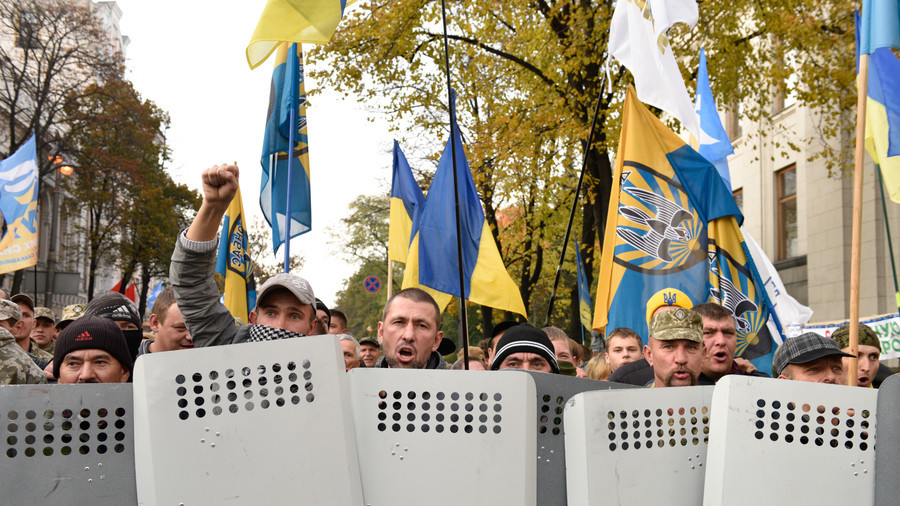 The Ukrainian Church's drive to gain independent status (autocephaly) is a political move, pushed by President Petro Poroshenko who seeks to fix his crumbling popularity before the next election, historian Alexander Dvorkin says.
"I'm not sure that Ukraine is really determined to get autocephaly. Mr. Poroshenko definitely wanted that very much, because his popularity is very low, the polls show very low figures, and he's very anxious to get re-elected," Professor of Church History at St. Tikhon's Orthodox University Alexander Dvorkin told RT.
"So, he needs to do something, at least something to raise his popularity. And he believes that [the] announcement of autocephaly of [the] Ukrainian Church will be the thing that will do it."
Another benefactor of the autocephaly drive is the "so-called Patriarch Filaret, who was excommunicated by [the] Russian Orthodox Church for political reasons and for very grave moral transgressions."
'Patriarch Filaret' leads the so-called 'Ukrainian Orthodox Church of Kiev Patriarchate', which is not recognized by other Orthodox churches, yet is openly courted by the Ukrainian authorities. The only canonical Orthodox church in the country is the Ukrainian Orthodox Church, which is a constituent part of the Russian Orthodox Church.
One person who greatly contributed to the ongoing Church crisis – Constantinople Patriarch Bartholomew – also benefits from it to a certain extent, Dvorkin believes.
While the Constantinople Patriarch was once the most respected hierarch in the Orthodox world long ago, he now only leads a small Greek community of Istanbul, and struggles to "show his influence."
The Ukrainian church has also experienced impact from Washington, the historian says. The US State Department "meddles very much in world church affairs" and especially with Ukraine, in "violation of the first amendment" of the US Constitution. Dvorkin explained that Washington thinks autocephaly would "weaken Russia."
The Constantinople Patriarchy has recently moved towards recognition of the independence of the Ukrainian Orthodox Church, deciding to send its exarchs to Kiev and engaging into a row with the Moscow Patriarchate as a result.
The drive for autocephaly, however, will bring nothing but more chaos to Ukraine, the historian warns, yet those who push for it seem to be "irrational" and peddle "blind nationalism."
"It will weaken Ukraine even more and it will increase the chaos. I'm not sure that even Poroshenko will win in the end," he stated.
It will be terrible. It will increase also all the tensions in the society, it will increase all the divisions in the society, it will increase all the disagreements in the society, and it will harm Ukraine.
'Patriarch' Filaret will also hardly benefit from the whole affair, as no one will recognize a new independent Ukrainian church – if it ever emerges – as a Patriarchate.
"There will be no Kiev Patriarchate, and Patriarch Bartholomew will never allow Kiev Patriarchate to exist. Whatever this new church will be, it will be not the Kiev Patriarchate," Dvorkin said. "It will be headed by a metropolitan or archbishop or whatever. And I still have my doubts that it will be fully independent, fully autocephalous."
READ MORE: A 'global conspiracy' undermines Orthodox world – head of Russian Church
The "unification council," which is supposed to bring together various Orthodox Churches in Ukraine, might actually become a "division council," Dvorkin said, as the canonical Ukrainian Orthodox Church has firmly refused to take part in it. Open division among the hierarchs might result in no new "church" actually emerging and no religious organization receiving autocephaly from Bartholomew, he added.
Subscribe to RT newsletter to get stories the mainstream media won't tell you.
You can share this story on social media: