A 'hole' for your 'owl': Two Serbian cities mock each other over sexed-up statues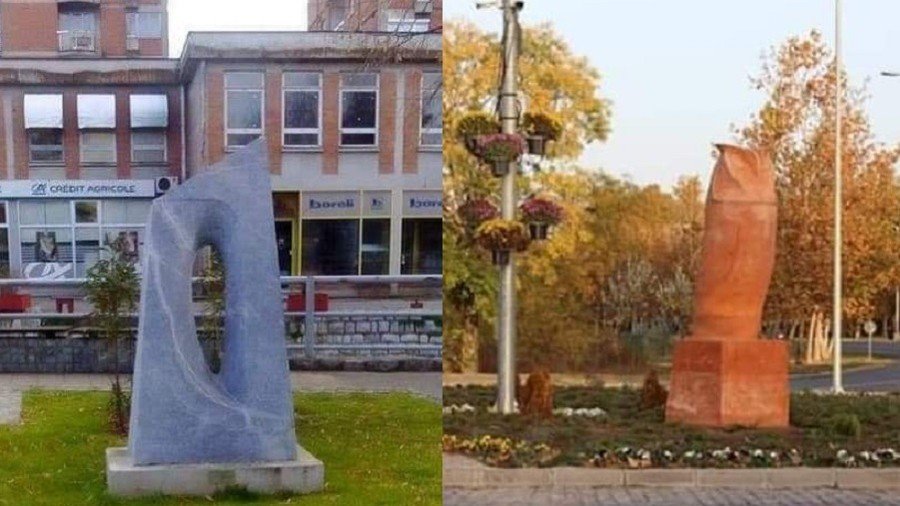 An unfortunately-shaped statue of an owl in the Serbian city of Kikinda has provoked ridicule both internationally and at home, with a nearby city, which also has an ambiguously shaped statue, offering some "fraternization."
Kikinda is famous for the owls that nest there in the fall, and decided to celebrate the feathery citizens with a monument created at the local terracotta workshop. The city posted photos of the monument at the beginning of this month, which it rechristened "Owl-vember."
While up close and personal the statue does look like a stylized owl, from a distance it looks like something entirely different.
While some of the residents praised the statue, the majority of reactions on Facebook were negative, ranging from open frustration to thinly veiled sarcasm:
Now all the foreigners will make fun of us.

Take this down, all of Serbia is laughing at us. Disgrace.

This looks like many things, but not like an owl at all.

This looks nothing like an owl. Who approved this, someone blind? Horrible.

Make the owl a bit broader and add feathers, this really looks like a phallus.

Which artist created this beautiful sculpture? I need someone to weld my bike…
Perhaps the best response, however, came from Loznica. Some residents of the western Serbian town posted a photo of a postmodernist marble statue that looks like a female counterpart to the "owl."
"We've had this one for a few years and we don't mind, though we don't even know what it's supposed to represent," posted the Facebook page Loznica Urban Legends, adding a Serbian-style limerick verse that invited Kikinda to "fraternize."
Think your friends would be interested? Share this story!
You can share this story on social media: