One-way love: Trump remains frigid to Macron's caress at Paris visit (VIDEO)
French President Macron did his best to show through body language that his bromance with Donald Trump was still alive. But the US leader, who came to Paris after calling Macron's EU army plan "insulting" didn't seem interested.
Emmanuel Macron smiled, winkled and hugged Trump as the two met at the Elysee Palace in the French capital on Saturday. He then awkwardly patted the US president on the knee, touching it several times as the two leaders posed for photographers.
But Trump seemed bored and unwilling to respond to the passion displayed by the French leader, with whom he used to be best mates not so long ago.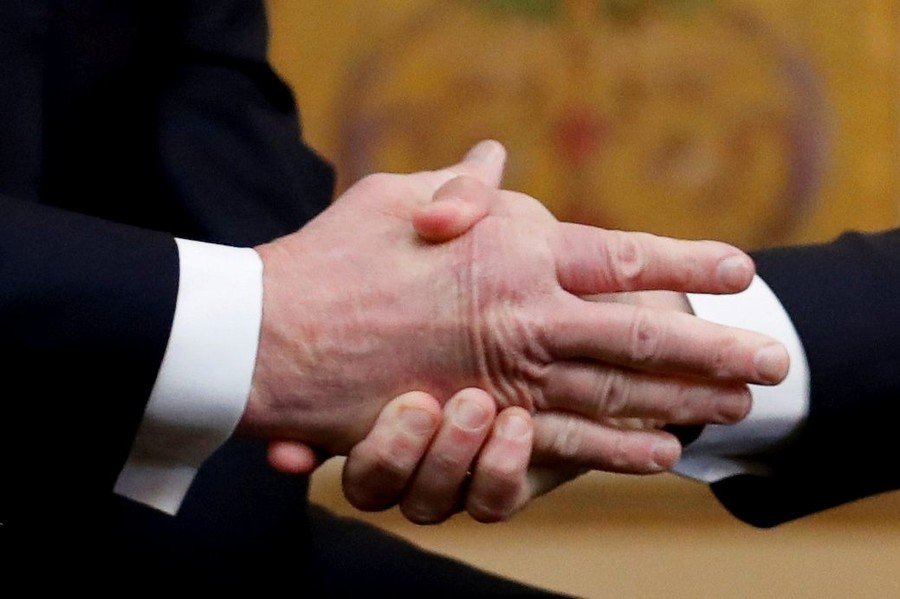 In more proof of the split, a photographer caught Macron desperately gripping to the US president's flabby arm during a handshake.
The so-called 'bromance' between Macron and Trump made headlines last year as the two engaged in ultra-long handshakes, spoke of "special relationship" and just couldn't stop complimenting each other. At one point, Trump even lovingly removed dandruff from Macron's shoulder, saying the man had to be "perfect."
But a lot has changed since then. Trump pulling out from the landmark EU-backed Iran nuclear deal and unleashing a tariff war against Europe were decisions that Macron just couldn't agree with.
READ MORE: 'Very insulting': Trump bashes Macron's idea of European army for protection from Russia, China & US
A day before the current visit, Trump slammed Macron on Twitter, saying that the Frenchman's suggestion that Europe should create its own military to protect itself from Russia, China, and the US was "very insulting."
Think your friends would be interested? Share this story!
You can share this story on social media: