Image of Bolsanaro's sons wearing pro-IDF & Mossad shirts goes viral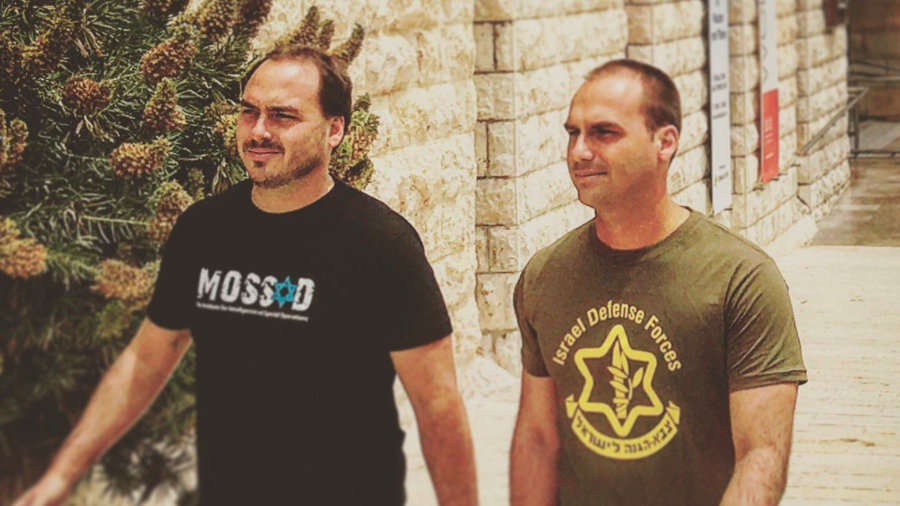 A photograph of Brazilian president-elect Jair Bolsonaro's sons sporting IDF and Mossad t-shirts has gone viral. RT set out to verify the image and find out the story behind it.
The photograph, showing Eduardo and Carlos Bolsonaro walking in Israel, is getting attention on social media in the wake of right-wing Bolsonaro's election win. The siblings are pictured donning t-shirts advertising Israel's intelligence service, Mossad, and the Israel Defense Forces.
The image has circulated on social media and message boards. A search on forums like 4Chan and reverse image searches revealed the earliest available version of the image online, which came from Eduardo himself.
Eduardo, who is a member of Brazil's Chamber of Deputies and a member of his father's far-right Social Liberal Party, posted the image to Twitter back in May 2016, when he was in Israel with his family. "A first world country that values its armed forces and police," he wrote at the time.
Eduardo also tagged his brother Carlos, a member of Rio de Janeiro's Municipal Chamber and part of the right-wing Social Christian Party, in the tweet. The pair have a third brother, Flavio, who also attended the trip. The three are Bolsonaro's sons from his first of three marriages.
The Israel trip saw members of the Bolsonaro family tour the country and visit members of the Knesset. Catholic Jair and his sons were even baptized by an evangelical pastor in the River Jordan. Brazil's evangelical voters make up one quarter of the electorate.
This isn't Eduardo's first foray into displaying military support on his chest. He caused a stir earlier this year when he wore a t-shirt with the face of Brazilian military intelligence officer Colonel Brilhante Ustra, accused of torture under the country's military dictatorship of the 1960s-1980s.
In May, Eduardo posted a controversial cartoon which claimed to show the difference between Israelis and Palestinians. It depicted an Israeli soldier protecting a woman and child, while a Palestinian fighter hides behind a woman.
Eduardo also re-shared a post by Israeli Prime Minister Benjamin Netanyahu on the day of the US embassy opening in Jerusalem, writing, "Next year will be Brazil's turn."
His father said he would be open to moving Brazil's embassy to Jerusalem, following the US's relocation decision last year. The president-elect has made his support for Israel clear, claiming in 2017 his heart is "green, yellow, blue and white," in reference to Brazil and Israel's flags.
READ MORE: Bolsonaro wants Brazil's Israel embassy in Jerusalem, says Palestine needs to be a state to have one
Meanwhile, Bolsonaro's eldest son Flavio is currently planning a trip to Israel to buy some of its military drones and to check out its facial recognition equipment that can be installed on public transport, Renova Media reports.
Like this story? Share it with a friend!
You can share this story on social media: