'I'm a fascist': Man attacks commuters on Rome train, leaves woman covered in blood (VIDEO)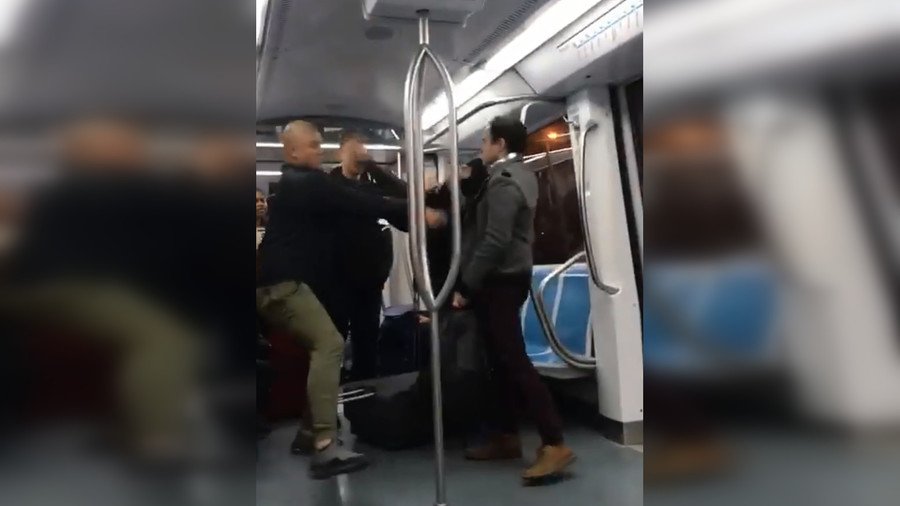 A violent brawl shocked commuters after men, who were reportedly Ukrainian, attacked a passenger on a Rome train. The assault was caught on video, which shows that a woman who tried to stop the violence was left covered in blood.
"I'm a fascist," a tall young man is heard saying in Ukrainian as he approaches a commuter on the Rome-Lido train. Seconds later, the man with a shaved head is seen pushing his victim and then punching him.
Other passengers tried to stand by the attacked man, reportedly a 28-year-old Indian, but seemed panicked after things started to heat up, and jumped from their seats to avoid getting caught in the crossfire. The camera did not catch the whole incident as the witness-turned-cameraman turned his phone away several times.
The brawl was over in less than a minute. When the doors of the carriage opened, the perpetrators apparently rushed out to flee the scene. It is not clear from the footage whether the man ran to pursue the attackers, but he is seen falling on the floor after apparently being pushed from the outside.
READ MORE: Ukrainian fugitive who faked own death found living lavishly in fancy French castle
A Ukrainian woman who witnessed her compatriots' behavior tried to intervene in the brawl. However, she could not calm down the aggressors and was injured in the incident, with her face seen covered in blood in the video.
Police tracked down the perpetrators shortly after the incident. Both were arrested.
The motive behind the violence is not clear. Italian media described the attack as "probably racist", but said that the 23-year-old Ukrainians might have attempted to steal the victim's suitcase.
Think your friends would be interested? Share this story!
You can share this story on social media: