Syria's cancer-stricken First Lady Asma Assad filmed warmly speaking to hospital patients (VIDEO)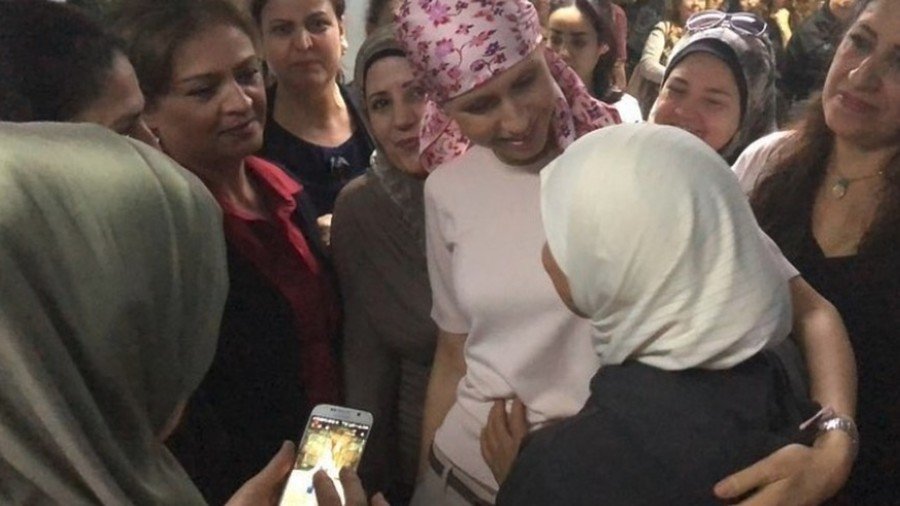 Bashar Assad's wife Asma has been filmed speaking to women at a Syrian cancer center before attending her own treatment session. Back in August, Syria's first lady was diagnosed with breast cancer.
Asma Assad was captured on camera at a local cancer center, where she arrived to undergo another treatment session. In the footage uploaded by the Syrian presidency, she is seen wearing a pink headscarf and warmly greeting the hospital staff and patients. She appears to have lost her hair as a result of chemotherapy.
The first lady herself is combatting cancer after being diagnosed with the disease back in August. At that time, Damascus acknowledged that she had started treatment for the early stages of breast cancer.
Born in Acton, West London, Asma is heavily involved in charity activities and humanitarian work. She has created a variety of not-for-profit organizations, and official photos often show her visiting schoolchildren, orphans, and injured soldiers.
She has three children with President Bashar Assad. She moved to Syria in November 2000 after meeting her future husband, who she married just one month later. Since the outbreak of the Syrian civil war, the first lady has often been criticized for not speaking out.
READ MORE: Syrian First Lady Asma Assad treated for breast cancer
Back in 2016, she appeared in a rare interview with RT in which she lamented suffering on both sides of the war and accused the West of dividing Syrian children according to the political views of their parents. Asma also revealed that she had rejected offers of asylum outside Syria during the war.
Think your friends would be interested? Share this story!
You can share this story on social media: