Organ donor Jesus ad won't go on air after 20,000+ sign petition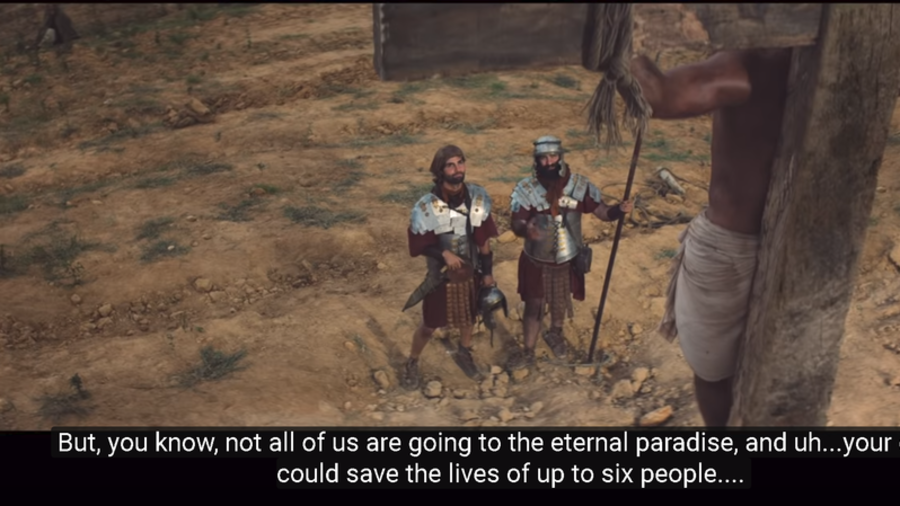 An advertisement showing a crucified Jesus Christ getting signed up for organ donation by 'Roman soldiers' will not air on Australian TV after a petition to pull the "blasphemous" ad racked up over 20,000 signatures.
The two-and-a-half-minute video was put on YouTube on October 14, and immediately triggered controversy online, with many Christians calling the advert "despicable" and "offensive."
The clip, which was intended as a lead-in to the documentary 'Dying to Live,' shows two Roman soldiers approaching Jesus on a crucifix and asking him if he has registered for organ donation. They then educate him on the program and encourage him to sign up online, so he can save "up to seven lives."
The soldiers, who appear extremely laid-back during the conversation at Golgotha, say that they have already filled the form for Jesus, so he only needs to tap on the screen to complete the registration process. A smartphone is extended to him on a spear tip. Before the registration is complete, the Romans remind Jesus that his family should be on board with the decision, which is luckily the case since both his parents – earthly father Joseph and mother Mary – enthusiastically approve of the cause.
The advert concludes with a tagline "Do what Jesus would do."
The director of the short film, Richard Bullock, says it was a deliberate provocation, intended to "provoke a conversation in homes around the subject."
Start conversations it did, but the reaction has been predominantly negative. The video has been slammed online as an "idiotic,""disrespectful," and "blasphemous."
Angry commenters accused Bullock of a "publicity stunt," calling the ad insensitive and the use of Jesus' figure insulting to the Christian religion.
"Organ donation is a good cause, I have no problem with the cause, I do however have a problem with this ad. It's not that funny and needlessly disrespectful," one user wrote.
Many agreed that while raising awareness about the lack of organ donors in Australia is a noble cause, the way the video was filmed is "taking humor denigrating Christ to a new low."
READ MORE: Pakistanis rally to demand death for Christian woman facing execution for blasphemy (PHOTOS)
Some pointed out that if Prophet Mohammed was featured in the video, the backlash would be far more fierce.
"Now do one for Buddha, oh, and Mohammed! How about Krishna? No?" a commenter wondered.
A petition to shelve the ad forever before it is even aired was launched on Change.org.
By Wednesday evening, the petition, which was set up roughly a week earlier, gained over 21,000 signatures. The author of the petition, Dane Craill, a surgical nurse, argued that "the advertisement itself is highly derogatory," despite its benevolent cause.
It is disrespectful and undermines the power of the cross that we place our hope in.
In an update on Tuesday, Craill said that she was told by Australia's AdStandards board that the advertiser confirmed that "the advertisement is not currently broadcast on television as an advertisement, and will not be broadcast on television."
It's unclear, Craill wrote, if the ad was turned down at the last minute or whether it was meant to be aired at all. Australian media reported that the ad was supposed to air earlier in October.
Now, Craill wants the short film to be removed "immediately" as well. "It is important that we let the 'Dying to Live' campaign know that we will not tolerate blasphemy towards Jesus Christ!" she wrote. She also warned that online organ donation registry can see an exodus of potential donors, as "many have stated that they will remove their organ donation registration as they cannot morally support such a campaign."
If you like this story, share it with a friend!