Argentinian police crack down on protesters ahead of 2019 austerity vote (PHOTOS)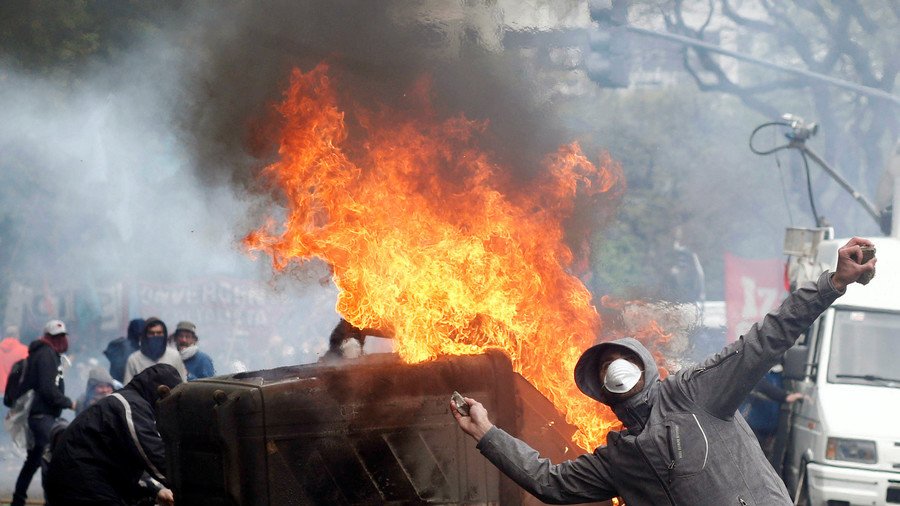 Police in Argentina have targeted anti-austerity protesters with rubber bullets, water cannons, and tear gas as they demonstrated against the government's 2019 budget bill, which includes severe spending cuts requested by the IMF.
Thousands of protesters marched in Buenos Aires against President Mauricio Macri's austerity program. Among those airing their grievances were teachers, social groups, and leftist organizations. Meanwhile, legislators were gathered inside discussing the budget, which must pass in order to keep Macri's plan on track.
A few protesters threw rocks and trash at the heavily-armored riot police, who returned fire with rubber bullets and tear gas canisters. When some of those gas canisters were thrown back at police, a wave of motorcycle cops arrived to subdue the rebellion and water cannons were turned against the protesters.
The disorder outside mirrored disorder within the capitol building, where lawmakers could be heard arguing loudly over points in the budget. Macri's party has a tenuous grasp on power, lacking a majority in either house of Congress, and has made concessions to some provincial governments to secure the votes required to pass the bill.
Macri introduced the austerity measures at the behest of the IMF, which has pledged a $57 billion bailout package to the cash-strapped government. The bailout amount was recently increased from $50 billion, already the largest bailout in the IMF's history.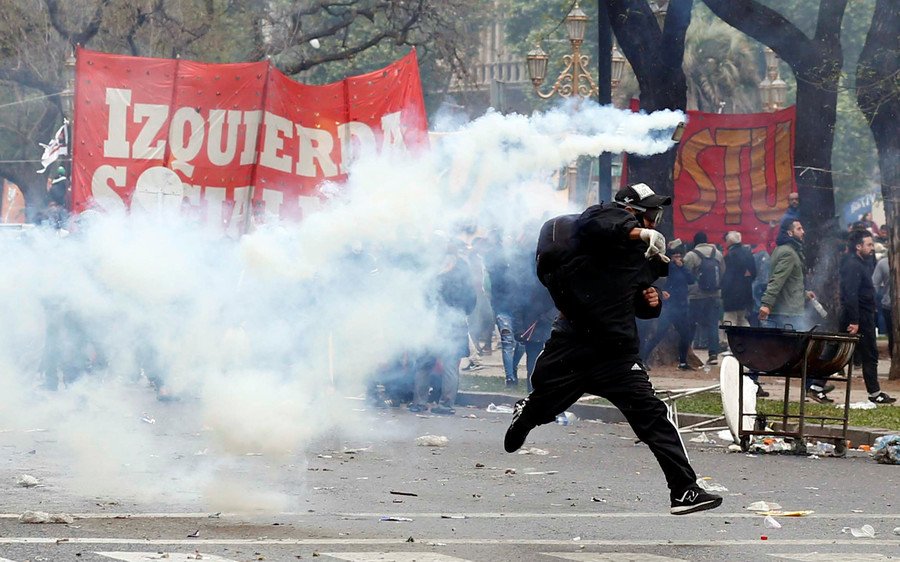 Inflation is skyrocketing in the South American nation and is expected by the government to hit 42 percent this year. The austerity measures in the budget include cuts to public utility subsidies that will increase the costs of heating and electricity. Attempts last year to cut pension benefits were met with massive protests and draconian repression similar to the demonstrations taking place today.
Argentina's largest labor union, the CGT, which comprises a fifth of the nation's workforce, held a two-day strike last month to protest the bailout program. Since the measure was announced in June, the peso has dropped 50 percent against the dollar. Argentina's economic woes come at an inopportune time, as the nation prepares to host the G20 meeting next month.
Argentina's economic collapse of 2001-2002, which left one in five Argentinians unemployed, was preceded by another massive IMF bailout. With 28 percent of the country's population already living in poverty, many Argentinians are worried history will repeat itself.
You can share this story on social media: