US aircraft carrier enters Arctic Circle for the first time in nearly three decades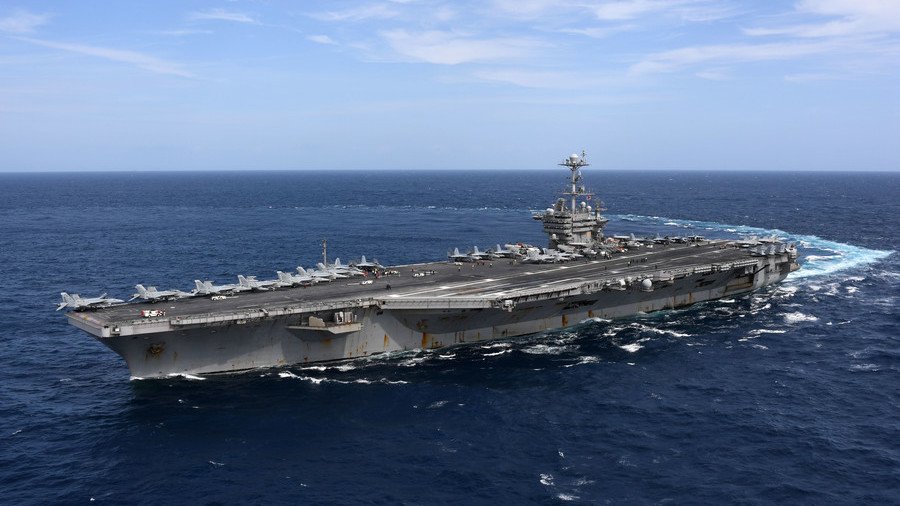 A US aircraft carrier strike group has entered the Arctic to join a massive NATO naval drill close to Russian border for the first time since the end of the Cold War.
Nuclear-powered carrier USS 'Harry S. Truman' will operate in the Norwegian Sea to display "the flexibility and toughness" of US forces, the Navy stated on Friday. A ship of its type hasn't conducted voyages into Arctic waters since 1991, and hasn't shown up near Norwegian shores since 1987.
The carrier group will perform a wide array of training exercises, including takeoffs and landings in severe northern weather conditions, the carrier's commanding officer, Captain Nick Dienna, explained.
"It has been over three decades since carrier aviation has been tested by this environment."
Dienna said that the ship's presence in the region showcases "a full spectrum of capabilities to bear anywhere in the world."
USS 'Harry S. Truman' is also set to join the massive NATO drill, Trident Juncture 2018, which is scheduled to take place from October 25 to November 7. The upcoming exercise will be the largest of its kind since the end of the Cold War, involving more than 50,000 troops, 65 ships and around 250 aircraft. The drill will span from Iceland and waters off eastern Norway to Swedish and Finnish airspace.
The drill takes place amid increased militarization in the Arctic. The Pentagon had deployed extra troops in Alaska and stepped up exercises there. Washington is also planning to double the number of marines stationed in Norway. Russia, meanwhile, has been strengthening its bases and outposts around the nation's northern coast.
Despite amassing a large amount of naval power in close proximity to the northern Russian borders, NATO officials insist that the maneuvers are purely defensive in nature and are not a threat to the military bloc's immediate neighbors.
"We're never looking for a fight, but we are committed to defense and deter," the drill's commander, US Admiral James Foggo, told reporters back in June.
Foggo, who also leads NATO's Allied Force Command Naples, said that the nations will simulate defending Norway from a hostile attack, but refused to go into the details of the wargame's scenario.
Russia considers military buildup on its doorstep dangerous, not only to Moscow but to the whole region. Earlier this month, its Foreign Ministry's spokesperson Maria Zakharova said that "irresponsible" activities like Trident Juncture can "destabilize" the situation in the Arctic.
"The Arctic and the north of Europe must remain a low-tension zone," she said at a press event, adding that saber-rattling in the region may have "long-lasting ramifications."
Like this story? Share it with a friend!
You can share this story on social media: