Kremlin 'counting on' Putin-Bolton meeting in Moscow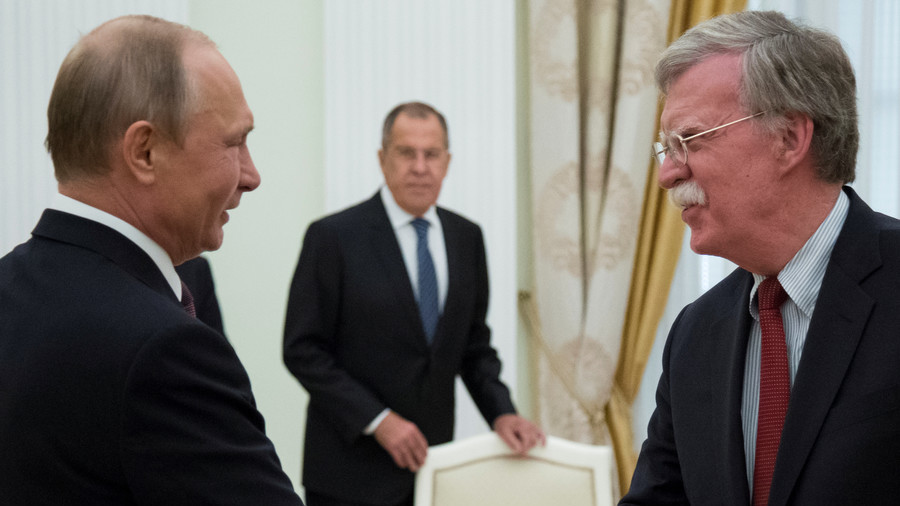 Russian President Vladimir Putin will meet with US National Security Advisor John Bolton during his upcoming visit to Moscow, the Kremlin has revealed.
Bolton will be in Moscow for two days early next week, according to Putin's foreign policy aide Yuriy Ushakov. Ushakov is one of those scheduled to hold a meeting with the US official, along with the Russian Security Council, and possibly the Foreign Ministry.
Most importantly, a one-on-one with Putin is also on the table.
"We are preparing a possible meeting with President Putin and are counting on that meeting taking place," Kremlin spokesman Dmitry Peskov told Russian media.
Bolton's previous visit to Russia was in August. Then, he spoke to his Russian counterpart Nikolay Patrushev in a nominal effort to "restore lines of communication" broken in the follow-up to Crimea's reunification with Russia in 2014.
The two sides, however, failed to agree on a joint statement. According to Moscow, one of the points Bolton wanted to include was that "Russia interfered in US elections, but denies it." Bolton's after-the-fact press conference was focused more on issues that remain bones of contention between Moscow and Washington than on those where common ground can be identified.
Bolton's visit comes at a time of extreme tension between Russia and the US. Since he was last in Moscow, the idea of a naval blockade of Russia was floated in Washington, among other measures.
One of the most thorny issues between the two is the seemingly restarting a nuclear arms race. Just on Thursday, Putin boasted about a hypersonic missile arsenal that surpasses any rival, while also admitting that Russia doesn't have a pre-emptive strike strategy. Any Russians that die in a nuclear holocaust "will go to heaven," he said, while any aggressor would be destroyed before they can repent.
If you like this story, share it with a friend!
You can share this story on social media: