Moms v Macron: Women blast French leader for claiming educated ladies won't choose large family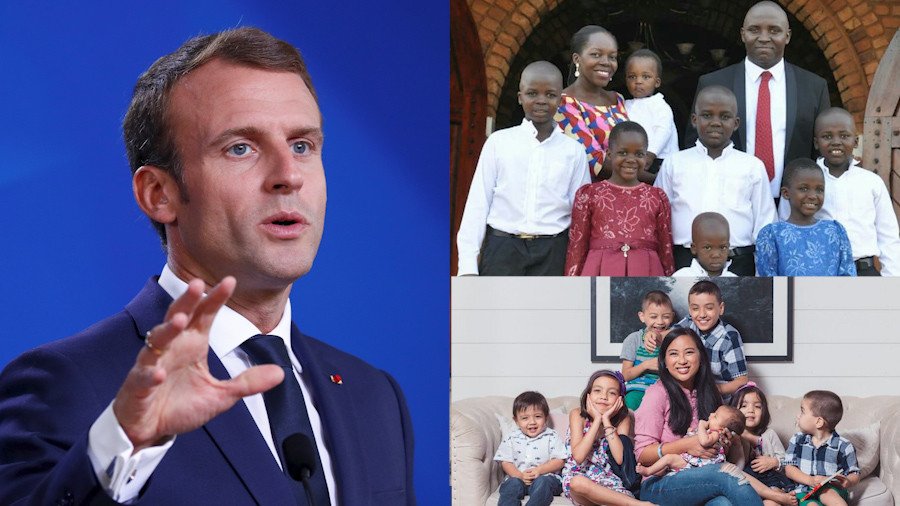 Emmanuel Macron has attracted the anger of moms across the globe after suggesting that no educated woman would want up to nine children. Take a look, Monsieur President, at all the multi-children mothers with university degrees!
The French leader seems unable to get away from the topic of large families. A year ago, he was bashed on social media for saying that Africa's main problem is "seven, eight children per woman."
The 40-year old 'tried his luck' again in late September, when he spoke about women and fertility in Africa at the Gates Foundation's Goalkeepers Summit. "Please present me the lady who decided, being perfectly educated, to have seven, eight, nine children," he said to the audience.
While Macron's main point was that parenthood should be a choice, many women across the globe considered the statement offensive. The campaign is surprisingly only now gaining strength in October, weeks after the centrist's speech.
Professors and degree holders who are also happy mothers are publishing photos of themselves with their kids, challenging the French president. Young women with babies, and ladies with grown-up children – the female wrath towards Macron is gaining momentum.
He is "tapping into the reality that is hard to juggle: children and the career," Lisa Canning, a mother-of-seven from Toronto, told RT. The French leader and many other people are challenged by "women who work and choose to have large families" because they can't imagine how this can be managed, she stated.
Another proud mother-of-seven and the holder of master of education degree admitted on Twitter that her children are so far her "best post-grad work."
"PhD Harvard (2010), AM Harvard (2002), BA UPenn (1998). Eight children by choice. Keep it going ladies, add your own," a mother-of-six wrote.
Dr Theresa Kigozi, who is a physician from Kampala, Uganda, insists that the choice to have children is up to the couple. She and her husband have had seven children during 11 years of marriage, and both are totally happy. "It was clear to us that we wanted a large family," she told RT.
Like this story? Share it with a friend!
You can share this story on social media: