What's in a name? Indian city changes name from Muslim to Hindu to fix 'mistake' of occupiers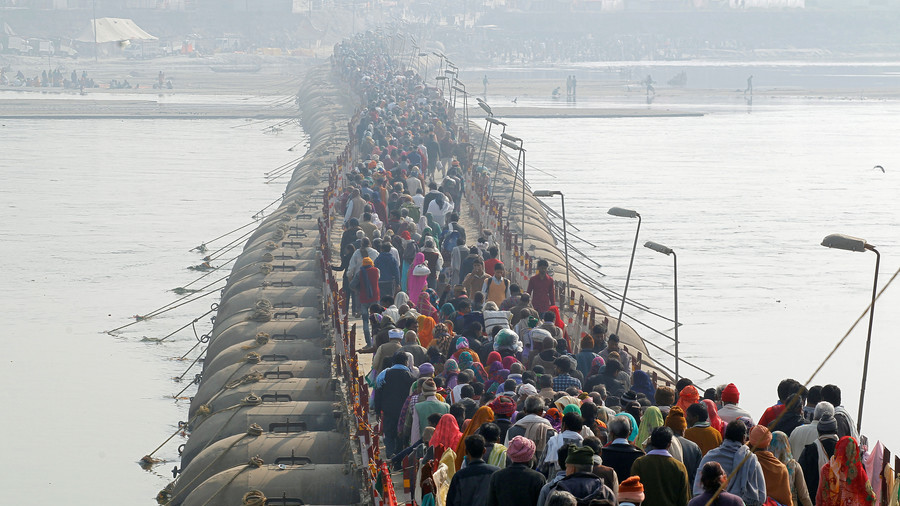 A city in one of India's most populated states is having its Muslim name changed to a Hindu one as its nationalist Bharatiya Janata Party (BJP) government seeks to 'correct the mistake' made by Muslim Mughal rulers in the 1500s.
Allahabad, a city in the northern state of Uttar Pradesh, will now be called Prayagraj, a source from the area's ruling BJP party told reporters on Tuesday.
The city, a UNESCO site, has been given the new name of Prayagraj, the elongated version of its original name of Prayag before Mughal-era rulers changed it to the Islamic appellation.
The name change was announced during a cabinet meeting ahead of a mass pilgrimage there in January 2019.
Uttar Pradesh Health Minister told local media: "The city used to be known as Prayagraj since the beginning.
"To those who are opposing the decision, how would you feel if the name your parents gave you was to be changed?"
Energy Minister Shrikant Sharm hinted that the Allahabad name change is unlikely to be the only one.
"It is the right of the government to rename any city," he said. "If needed, we will rename more cities and roads. The mistakes done earlier will be rectified."
The announcement drew mixed reaction on Twitter, with some locals praising the move and others refusing to relinquish the name of Allahabad.
We Allahabadis will continue calling it Allahabad, come what may

— Markandey Katju (@mkatju) October 16, 2018
Finally BJP has acted upon the complaint against #MJAkbar. They have decided to undo what Akbar did. So Allahabad will be #Prayagraj from now on.

— Bal Rafale Vardhan 🌞🚩 (@PresidentVerde) October 16, 2018
Others noted that there may actually be more pressing issues to worry about than changing the "shambles" city's name.
Lately I have traveled to #Allahabad frequently. The city is in shambles, desperately needs better roads and infrastructure especially given the fact that the #MahaKumbh is barely 3 months away. Shouldn't that be priority over name changes? #Prayagraj@myogiadityanath

— Supriya Shrinate (@SupriyaShrinate) October 16, 2018
But one hit back saying:
What priority. These two are different issues and not alternative options.And yes both are equally important.

— 🇮🇳 अमोल काबरा 🇮🇳 (@amolgkabra) October 16, 2018
Another tweeter suggested the BJP is moving backwards rather than forwards:
They are moving towards stone age... 😝

— Ahamed Ibrahim S N (@ahamedibrahim87) October 16, 2018
While another netizen went all the way to say the name change is actually a precondition to development.
No ! The development can only be done with a new name

— robbie (@robbiethe) October 16, 2018
Like this story? Share it with a friend!