Blast in Crimean college was terrorist attack, explosive was filled with shrapnel – investigators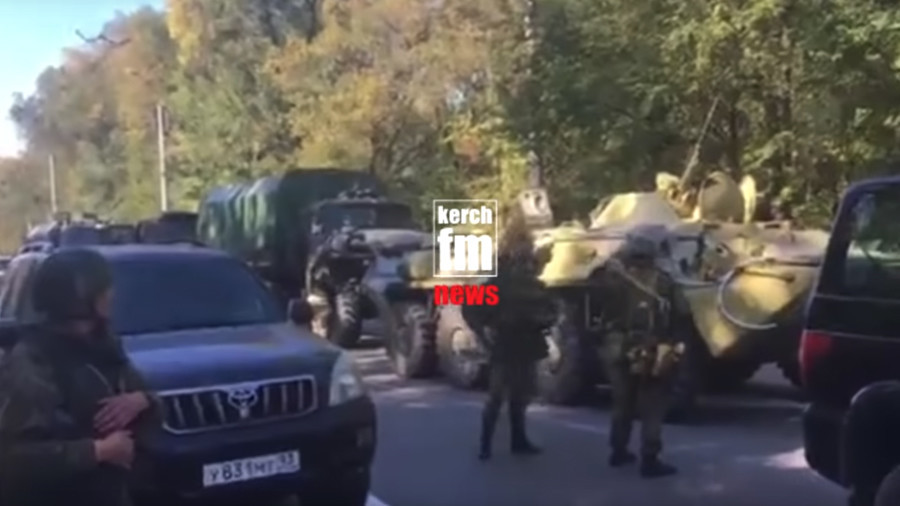 The blast in Kerch was a terrorist attack, Russia's Investigative Committee has confirmed. It said that the explosive device that detonated at midday was packed with metal fragments.
The Investigative Committee has opened a criminal investigation into the terrorist attack. The agency said the preliminary on-site investigation revealed that the improvised explosive device was filled with shrapnel.
Investigators have now begun interviewing eyewitnesses and scrutinizing CCTV footage. Witnesses have told RT they saw armed men wearing balaclavas, who opened fire at students. Russian health authorities said most of the victims were underage students.
Armored vehicles have been seen arriving at the college, as authorities scrambled in response to the attack. Kerch FM has uploaded a video showing BTR-80 armed personnel carriers and men in military fatigues.
Authorities have cordoned off the college building, and the adjacent area was evacuated. Bomb squads and forensic experts are said to be inside the security perimeter.
In the aftermath of the blast, security measures were ramped up across the peninsula. Police have sent additional patrols to the Crimean bridge that connects Crimea with mainland Russia, while local authorities have declared an emergency. The Emergencies Ministry deployed three medevac helicopters and a transport plane to help the injured.
At least 18 people have been killed and dozens more have been injured in the blast. The incident was blamed on a gas leak at first, but it was later confirmed to be a terrorist attack.
The Russian government has conveyed its condolences to the families of the victims, while psychological help is being provided to people who lost their loved ones in the attack. A three-day period of mourning has been declared in Crimea, starting on Wednesday.
Think your friends would be interested? Share this story!