Tour boat almost lava-bombed by erupting Indonesian volcano in stunning VIDEO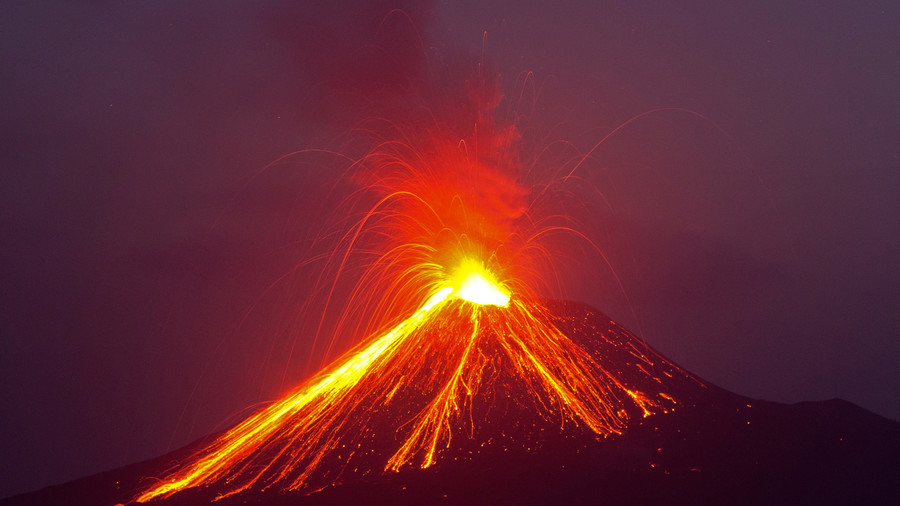 A team of amateur volcanologists almost fell foul of Krakatoa's wrath, with huge lava bombs crashing into the ocean just meters from their boat. The incredible scene was captured on video by one brave New Zealander.
Self-styled 'danger man' Geoff Mackley, the subject of a Discovery Channel documentary of the same name, captured the incredible footage on a recent trip to the volcanic islands on Monday.
Mackley, born in Auckland, New Zealand, is a freelance photographer who is known for chasing storms and plunging into volcanic craters around the world. On Monday, however, things got a little too close for comfort, it seems.
Mackley and his crew almost became the victims of Strombolian eruptions, which fire incandescent cinders and lava bombs to altitudes of up to several hundred meters. It is for this reason that volcanologists have established a 3km exclusion zone around the volcanic island but it seems Mackley didn't get the memo.
Mackley and his team ran into a spot of bother, which the photographer described as "a s**tfest," when their boat's propeller became entangled with fishing lines – not ideal for making a quick getaway while under volcanic bombardment. Luckily, the team made it away unscathed. Earlier this year, a tour boat was struck by a lava bomb in Hawaii, injuring 23 people in the process.
Krakatoa is a volcanic island located in the Sunda Strait between Java and Sumatra in Indonesia; the original series of volcanic peaks having been obliterated in the cataclysmic 1883 eruption, which killed approximately 35,000 people.
Anak Krakatau or 'The Child of Krakatoa' is a new island that formed in the aftermath of the 1883 eruption in 1927 that eventually broke water in 1930. The island has grown at a rate of roughly five inches per week since the 1950s.
Anak Krakatau erupted at least 44 times within the space of a week in September, according to Indonesian authorities cited by media.
Think your friends would be interested? Share this story!