T-rex redesign: The Jurassic meat-eater as you've never seen him before (PHOTOS)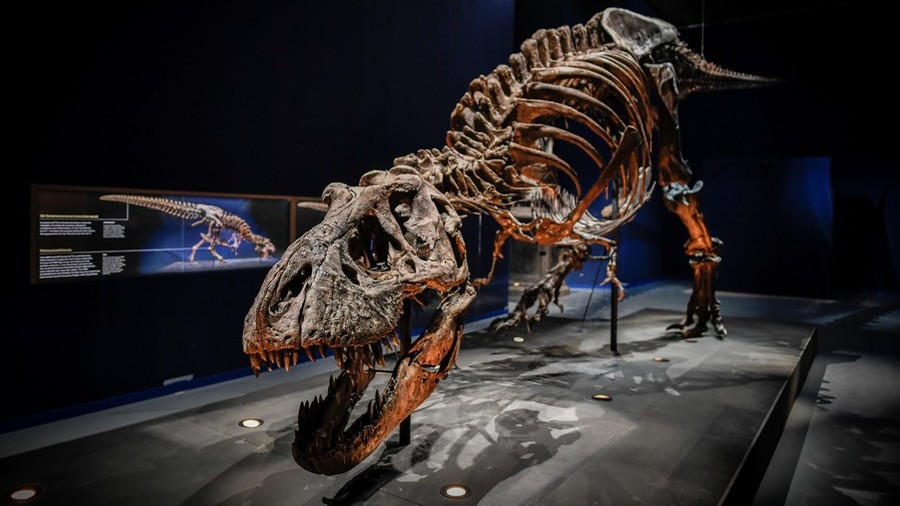 Makers of an open world dinosaur video game say they have created the "most accurate" depiction of the meat eating monster T-rex yet, thanks to painstaking study of research by paleontologists and other dino experts.
READ MORE: Last of the dinosaurs: Fossil of African T. rex contemporary found in Moroccan mine
The Saurian game, which allows users to play the lifespan of six dinosaurs including tyrannosaurus and triceratops, prides itself on the scientific accuracy of its world. The game is a simulation of the Hells Creek Formation ecosystem, an area around the US state of Montana where fossils belonging to scores of dinosaurs were pulled from the soil.
Its done, after 320 hours of painting. I present to you what is to my knowledge, the most accurate and rigorous Tyrannosaurus rex illustration out here. pic.twitter.com/Z7YIH9FwQL

— RJ Palmer (@arvalis) October 6, 2018
But when the RPG game came in for criticism over the likeness of its T-rex, the game makers went on the offensive to right a few perceived wrongs. Now Urvogel Games, the brains behind the 2017 release, say they've gone through a "year long" reconstruction to fix issues raised about their original large theropod.
According to the company, artist RJ Palmer studied numerous research reports in order to pinpoint key tyrannosaurus features such a muscle mass and skin impressions. One such study by Australia's New England University expert Dr Phil Bell, whose paper last year disputed the theory that the T-rex had feathers.
Our blog post explaining the science behind our new T. rex design is live! Check it out for some in-depth science and an extremely accurate T. rex! https://t.co/MhscbCcERr

— Saurian (@SaurianGame) October 6, 2018
Urvogel Games has published a lengthy blog post explaining what informed their decisions on traits such as color patterns and keratin sheaths for claws. The depiction includes toned-down muscle for the dinosaur's miniature arms as well as smooth skin scales – a departure from some Hollywood iterations of the bone-crunching animal.
READ MORE: 'Siberian Titan': Russian scientists discover new dinosaur species (PHOTOS)
Mark Witton, the paleontologist who initially suggested Saurian had made T-rex design flaws, has now said the rejig "looks really good".
"I'm wary of saying anything is definitive in paleoart - especially for taxa where we only have scraps of soft-tissue data - but, in terms of making a Tyrannosaurus fit for 2018, you guys have done a great job," he added.
If you like this story, share it with a friend!