'I can judge God': Turkish Instagram girl ridiculed over nonsense Google-translated tattoo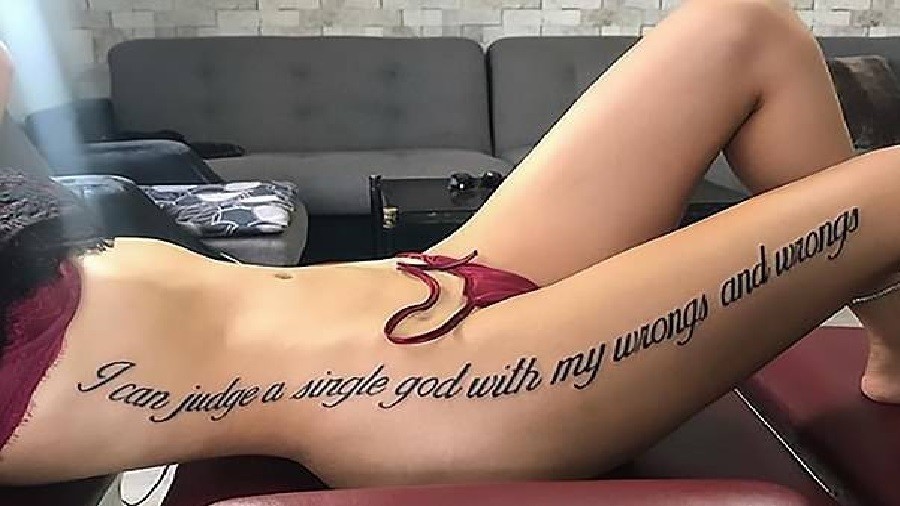 A Turkish media personality has unexpectedly gained international recognition for all the wrong reasons. Naz Mila, 26, will probably be remembered as the girl who tattooed Google-translated nonsense all over her body.
Mila is an Azeri-born celebrity and reality show star with some 860,000 followers on Instagram. On Sunday, her fans received a new treat: pictures of their half-naked idol with a giant tattoo spread from chest to knee on her right side. The only problem was that it didn't make sense.
The one-liner presumably was meant to read: "Only God can judge my mistakes and truths," a popular Turkish phrase. But instead, it read: "I can judge a single god with my wrongs and wrongs."
Apparently, neither Mila nor her tattooist had a good command of English, and the phrase was simply put through Google Translator or a similar online service.
After a flurry of ridicule by more linguistically competent people, Mila turned off comments for one of the pictures and seemingly deleted the other one – but not before the story was picked up by Turkish and British tabloids. So, here comes her five minutes of international fame.
Mila previously took part in the Turkish reality show 'With Zuhal Topal,' in which male contestants are supposed to find a bride. The show was taken off air after allegations that participants had had sex for money.
It doesn't appear that the tattoo gaffe discouraged her from posting new pictures and videos on her Instagram, however.
Like this story? Share it with a friend!