Syria spat over? US starts training Turkish troops for joint patrols in Manbij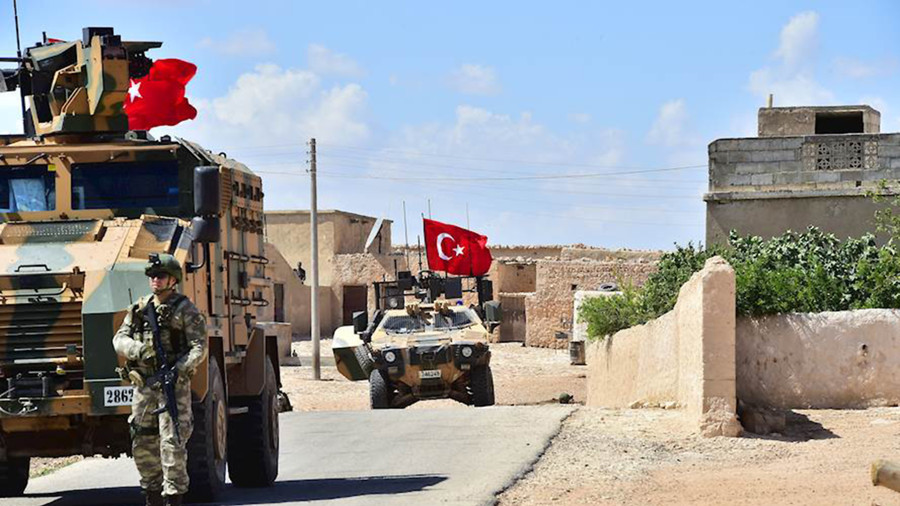 American instructors have begun training Turkish soldiers for joint patrols around northern Syrian town of Manbij, James Mattis revealed. It comes after months of bickering between the NATO allies over their role in Syria.
The US Defense Secretary told reporters on Tuesday that the Pentagon has just begun initial instruction for Turkey's troops that will conduct patrols in and around Manbij. "The training now is under way and we'll just have to see how that goes," James Mattis told reporters en route to Paris.
"We have every reason to believe the joint patrols will be coming on time," Mattis added, as quoted by AP. The training, which will be done on Turkish soil, had been delayed while equipment was brought in and the two countries worked out the instruction.
Continuing, Mattis praised the Turkish military who had been "very helpful, very professional on setting the rules of engagement and the training up."
Both US and Turkey have previously been at odds over Manbij, where the Syrian Kurdish YPG militia are based since 2016. The Kurdish armed group, which is viewed as a terrorist organization in Turkey is heavily relying on US military logistics, intelligence and training.
Earlier this year, Turkey had even threatened to knock the Kurds out of Manbij despite the presence of American troops there. Ankara consistently demanded that the US pull out troops from Manbij and halt military supplies to the Kurds. This Monday, Turkish President added fuel to the US-Turkey friction, accusing Washington of "blackmailing" the world and ignoring sensitivity of the Kurdish question.
Following months of political spat over the Syrian town, the two NATO allies came out with a "roadmap" which included conducting separate patrols along the line dividing the Turkish-controlled areas from Manbij itself.
At the time, Pentagon officials signaled that joint patrols of the northern Syrian town might also become reality. "The Manbij Roadmap does call for joint patrols, and we are working toward that end, but there is necessary training to be done first to ensure the safety and effectiveness of the joint activity," a CENTCOM official told in late July to Army Times.
Damascus has long objected to the presence of US and Turkish troops which deployed without any authorization from Syrian government. Syria's President Bashar Assad, who once famously called the US troops "invaders," told RT in the latest interview that "the Americans should leave somehow."
He noted that without foreign funding the armed opposition could be subdued "within a year." Russia, in turn, had also repeatedly stated that it considers the US military outposts in Syria to be unlawful, since they were not authorized by the Syrian government.
Like this story? Share it with a friend!
You can share this story on social media: