Israel's Netanyahu claims Iran has a 'secret atomic warehouse in Tehran'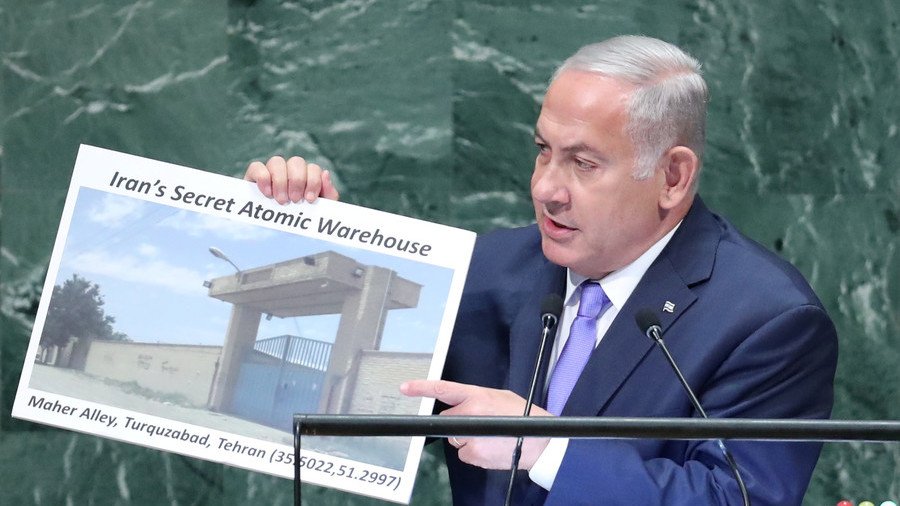 Israeli Prime Minister Benjamin Netanyahu has claimed that Iran has a secret "atomic warehouse" in Tehran, which has contained as much as whopping 300 tons of "nuclear-related material."
Speaking at the UN General Assembly on Thursday, he said that Israel conducted a raid on Iran's "nuclear atomic archive" and referred to the report on the matter that was subsequently released. Netanyahu went on to reveal a new piece of information.
What I am about to say has not been shared publicly before...I am disclosing for the first time that Iran has another secret facility in Tehran.
Netanyahu showed a photo of the "innocent looking compound" in Tehran, while naming the street that it is located on.
Israeli leader claimed that that the Iranians have been trying to vacate the warehouse after Tel Aviv's raid on the "archive" and urged nations with satellite capabilities to keep close eye on the location, as such activity might grow after his statement.
Since we raided the atomic archive, they've been busy cleaning out the atomic warehouse. Just last month they removed 15 kilograms of radioactive material. You know what they did with it? They took it out and they spread it around Tehran in an effort to hide the evidence.
Netanyahu slammed the International Atomic Energy Agency (IAEA) for not taking any action following Israel's report on the "secret archive."
He urged Tehran residents to go and get a Geiger counter "from Amazon" - something that is not actually doable, due to US sanctions against Iran - to check for radiation in the city. The warehouse allegedly houses "15 ship containers," which can contain some 300 tons of of "nuclear-related material," according to Netanyahu.
The Israeli PM has a thing for backing up his speeches with some visual materials. This was not his first performance of such kind at the UN General Assembly. Back in 2012, Netanyahu displayed a crude picture of a cartoonish bomb with a burning fuse, which represented alleged Iranian progress with procurement of nuclear weaponry.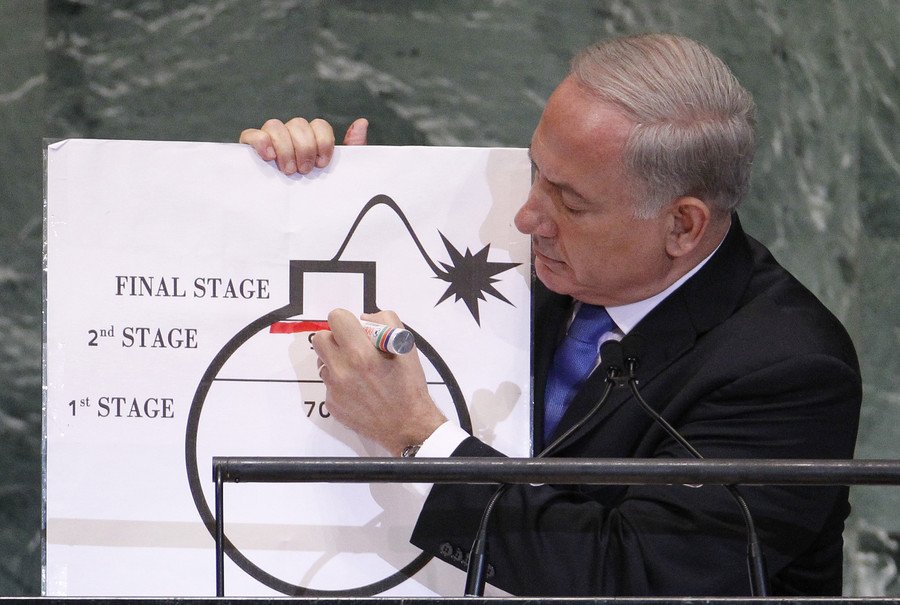 "This is a bomb, and this is a fuse," Netanyahu explained to the world leaders and top diplomats back then. He claimed that Iran was 70 percent of the way to complete nuclear weapons and then – literally – drew a "red line" at the 90 percent mark, and said that Tehran's first nuclear weapon would be ready "by next spring, at most by next summer."
Think your friends would be interested? Share this story!
You can share this story on social media: