Ukraine's right-wing Azov Battalion stages own version of Nazis' 'Cathedral of Light' ceremony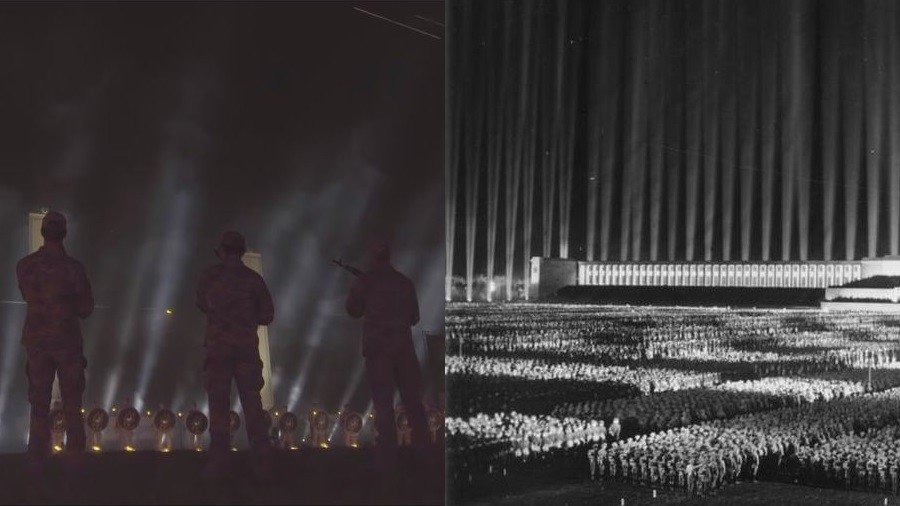 The Ukrainian Azov Battalion, known for its ultra-nationalist sympathies, has staged a memorial service apparently inspired by a ceremony widely used by the German Nazi Party, the 'Lichtdom.'
The 'Lichtdom' or 'Cathedral of Light' involved dozens of anti-aircraft searchlights beaming into the night sky during Nazi rallies in Nuremberg in the 1930s. The Berlin Olympic Games of 1936 used the same effect during its closing ceremony.
…the single most dramatic moment of the Nazi Party rallies…was not a military parade or a political speech but the Lichtdom, or Cathedral of Light…" — Kathleen James-Chakraborty. 1936. pic.twitter.com/xoyMMQ8PVN

— hammoudakhil (@inquietdouleur) April 6, 2018
Last Saturday, a strikingly similar technique was used by Ukraine's Azov Battalion, which was conducting an annual memorial for its deceased members. During the ceremony held in Urzuf, a small village on the coast of the Azov Sea, dozens of searchlights shone over a row of Azov fighters holding torchlights and round shields with call signs of their perished comrades written on them.
The Ukrainians didn't have access to military-grade lighting equipment like Hitler's men did. However, the parallel was reinforced by the use of the Azov Battalion's emblem – a variant of the Wolfsangel (Wolf's Hook) against the backdrop of the Schwarze Sonne (Black Sun). Both symbols were widely used by the German Nazi Party and are favored by many neo-Nazi groups today.
A speech delivered by a senior officer of the unit ended with a salute usually used by Azov fighters: "Glory to the nation. Death to the enemies!" This phrase was inherited by the Azov Battalion from the Ukrainian nationalists of the UPA, or Ukrainian Insurgent Army. The UPA collaborated with German Nazis during World War II in the hope that their backing would allow the creation of a national Ukrainian state that was free from 'undesirable' people like Jews and Poles.
The Azov Battalion started as a paramilitary group comprised of right-wing nationalists but is now part of Ukraine's Interior Ministry. It has patronage in the Ukrainian government, with its former commander Andrey Bilitsky now serving as member of the national parliament.
The UN's High Commissioner for Human Rights reported that members of the Azov Battalion were allegedly involved in various crimes during their deployment to fight anti-government forces in the east of Ukraine. These included looting, unlawful detention, rape and torture.
Every year, US Congress attempts to ban sending military aid to the Azov Battalion due to its neo-Nazi leanings. This was made law by the Department of Defense Appropriations Act for FY 2018.
Think your friends would be interested? Share this story!
You can share this story on social media: