'Robotic skins' brings inanimate objects to life and gives them purpose (VIDEO)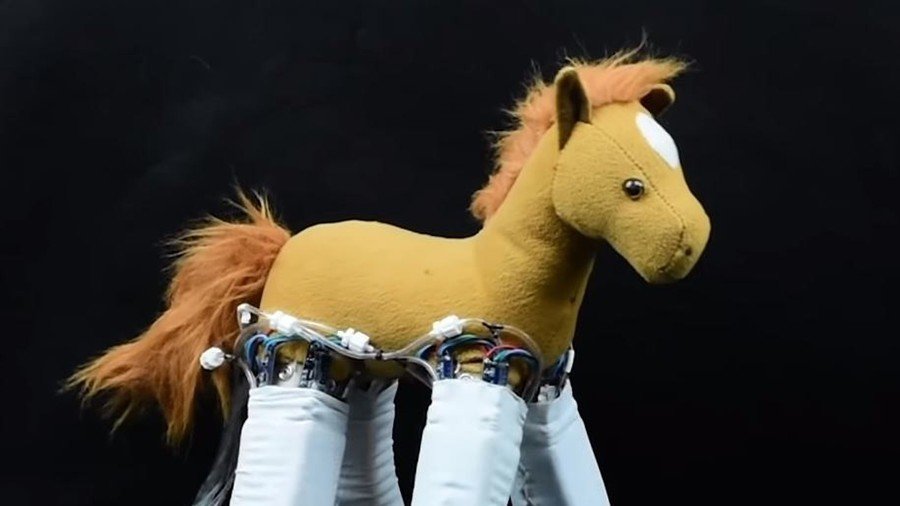 Yale researchers have created a new 'robotic skin' design that can pretty much turn any inanimate object into a multifunctional robot at a moment's notice.
The transformative 'skins' were developed in partnership with NASA under the premise of sending repurposable hardware into space. The skins are made up of sheets of elastic, embedded with pairs of sensors and actuators, which can be wrapped around a flexible object, effectively turning it into a robot.
Using a controller, the makeshift robot can then be directed to perform a variety of tasks depending on the property of the object and how the skins are applied.
"We can take the skins and wrap them around one object to perform a task –locomotion, for example– and then take them off and put them on a different object to perform a different task, such as grasping and moving an object," study co-author Rebecca Kramer-Bottiglio said in a statement.
"We can then take those same skins off that object and put them on a shirt to make an active wearable device."
The skins were developed with no specific purpose in mind but the possibilities are wide ranging, from search-and-rescue robots to wearable technologies.
For example, in one experiment Kramer-Bottiglio and her team connected a series of robotic skin patches to the upper body part of a T-shirt. This then allowed the sensors to detect when the person wearing it slouched and offered them a nudge to correct their posture.
In the case of astronauts, the skins could be adapted and reused to meet all sorts of needs onboard the International Space Station, alleviating the high costs of sending multiple robots into space.
"With the robotic skins on board, anything from balloons to balls of crumpled paper could potentially be made into a robot with a purpose," the team explained.
Next up, the researchers hope to streamline the system even further and explore the possibility of 3D-printing the components. The research has been published in Science Robotics.
Like this story? Share it with a friend!
You can share this story on social media: