India makes Muslim 'triple talaq' divorce punishable by up to 3yrs in jail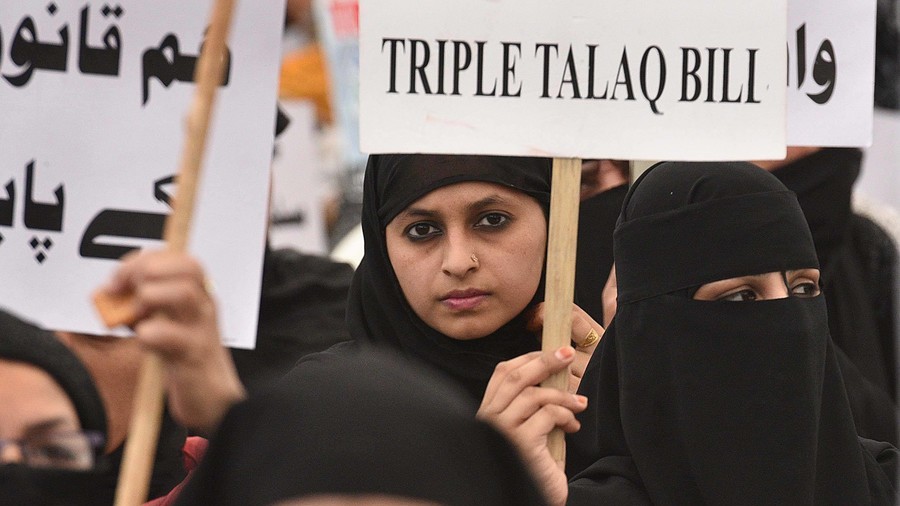 Muslim men in India who try to break free of their marriage contract by simply repeating the word 'Talaq', or divorce, three times, will face jail for up to three years after the government criminalized the practice.
In what is being hailed as a major win for Muslim women's rights, the government cleared an ordinance banning the triple talaq practice on Wednesday. The Union Cabinet issued the executive order as the practice had continued "unabated" despite it being ruled unlawful in
August last year by the Supreme Court. The five-judge bench decided the practice is un-Islamic.
Addressing the media after the Cabinet meeting, Law Minister Ravi Shankar Prasad said there was a "compelling necessity and an overpowering urgency" to approve the ordinance.
"I have said this before, the issue of triple talaq has nothing to do with faith, mode of worship or religion. It is a pure issue of gender justice, gender dignity and gender equality," he said.
The step to make talaq a punishable offence came after initial efforts in August this year to pass the Muslim Women (Protection of Rights on Marriage) Bill 2017, introduced by PM Narendra Modi last year, were hindered by opposition parties.
Shankar blamed Congress for the failure to get rid of the triple talaq "curse" earlier as he said the "barbaric and inhumane" practice was not revoked because of "ambiguity and vacillation of the Congress party for pure vote bank politics."
Because of the opposition, the government this time round ended up passing the bill with three amendments, namely that the law will be "non-bailable," meaning a magistrate will only be able to grant bail to the accused, not the police, and if the wife gives her consent.
The second amendment makes only the victim (wife) or her blood relations or people who become her relatives by marriage able to lodge the complaint.
Under the third amendment, the law will make the offence "compoundable."
Following the news of the ordinance, people flocked to Twitter to hail the law.
One called it a "great pride."
There were also those who opposed the legislation:
Triple Talaq ordinance is an election stunt, undemocratic and immoral. Muslim women won't get any benefit from this political gimmick.

— All India Muslim Personal Law Board (@AIMPLB_Official) September 19, 2018
Like this story? Share it with a friend!