India clears way for $2.2bn Russian frigate deal - report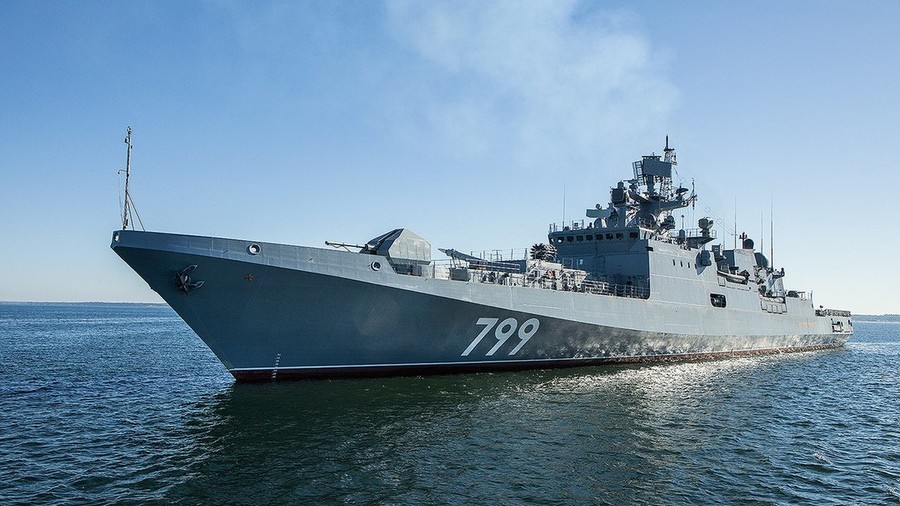 India has cleared the way for its biggest deal yet with Russia, with Delhi reportedly set to sign a deal to purchase $2.2 billion worth of Russian ships. It comes despite US sanctions aimed at deterring business with Moscow.
After revitalizing defense ties with the US earlier this month, India has now turned to Russia to acquire four new warships for its Navy, sources quoted by the Economic Times said.
The deal is expected to be signed by Indian Prime Minister Narendra Modi and Russian President Vladimir Putin at a meeting in Delhi on October 5.
The deal will see India acquiring advanced Talwar-class frigates, also known as Project 11356 frigates.
Two of them will reportedly be built from scratch in a Goa shipyard, while the remaining two will be sent from Russia.
According to the Economic Times, it has until now been difficult for India to acquire weapons from Russia, due to US financial sanctions complicating the process. Those US sanctions were implemented under the CAATSA (Countering America's Adversaries Through Sanctions Act) following the reunification of Crimea with Russia following a referendum - a move which the US and its Western allies have dubbed an "annexation."
But in an apparent, if not bold, defiance of US measures, it looks like India will go ahead with the deal, circumnavigating the sanctions by clearing the funds in rupees rather than in dollars.
Indian Defense Minister Nirmala Sitharaman indicated on Monday that her country would not allow its ties with Russia to be impacted by US sanctions. She added that negotiations on the S-400 missile deal with Russia were almost complete, hinting that India was on course to finalize it soon.
News of the reported frigate deal comes just after India signed what was branded a "milestone" agreement with the US. That agreement, signed in Delhi at the beginning of September, will purportedly see India gaining access to advanced defense systems.
The report comes just days after India's external affairs minister, Sushma Swaraj, said that the two countries "enjoy a special and privileged strategic partnership...India attaches the highest importance to its relations with Russia."
Like this story? Share it with a friend!