Strawberries laced with needles land Australian man in hospital; mass recall from shops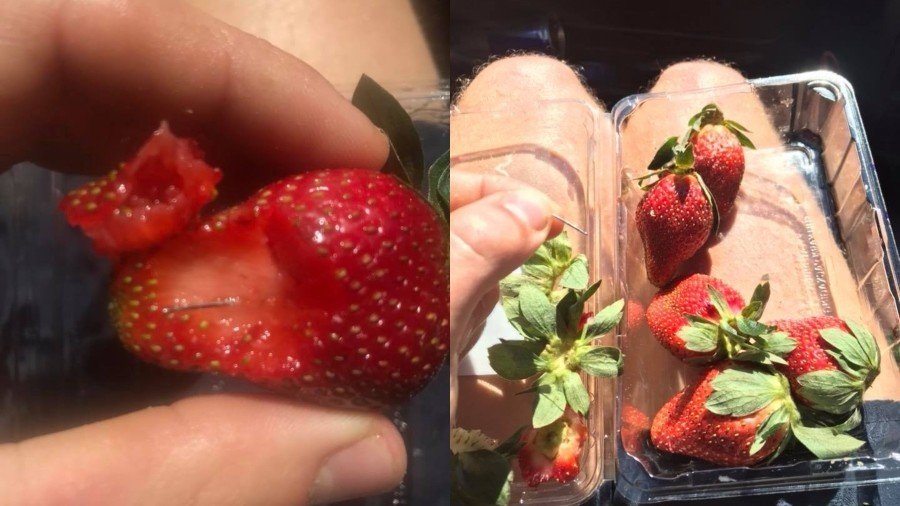 An Australian man has bitten off more than he could chew, hospitalized after swallowing a needle hidden inside a strawberry. Multiple berries were discovered to have the barbs hidden inside, prompting a police probe.
Brisbane man Hoani van Dorp purchased the berries on Sunday, probably anticipating a refreshing treat. Instead, when he bit into one, something sharp and metal was inside the berry. And before he knew what was going on, he swallowed half of it. Van Dorp's friend Joshua Gane shared images of a sewing needle planted in the middle of the berry.
"Just posting this as a warning to anyone that has bought strawberries (Berry Obsessions) from Woolworths [supermarket] recently," Gane said.
"Driving up to the coast when Hoani van Dorp bites through a strawberry and swallows half a sewing needle. We then checked the other strawberries and found another sewing needle lodged inside one of them. We are now at the emergency room because he subsequently started experiencing severe abdominal pain."
The photos quickly went viral, and have prompted a police investigation. A mass recall has been issued for Berry Obsession and Berrylicious strawberries purchased in all states on Australia's east coast. Health watchdog Queensland Health has, however, called for all brands to be thrown out just in case.
"I'm out here today to advise people if they've bought any strawberries in Queensland, New South Wales or Victoria since early last week, that they should dispose of them," Queensland Health's chief health officer Jeanette Young said. "If someone were to swallow a sewing needle it could get caught up in their gut."
It is understood that both brands of berry have come from the same strawberry farm in Queensland's south-east.
Queensland Police Service have launched an investigation into the contamination of the strawberries. Queensland Acting Chief Superintendent Terry Lawrence said police believe it was deliberate, but declined to name the farm involved or at what point in the supply chain police think the needles were planted in the fruit.
Think your friends would be interested? Share this story!
You can share this story on social media: