9 dead, 300+ injured as typhoon Jebi leaves trail of destruction in Japan (VIDEOS)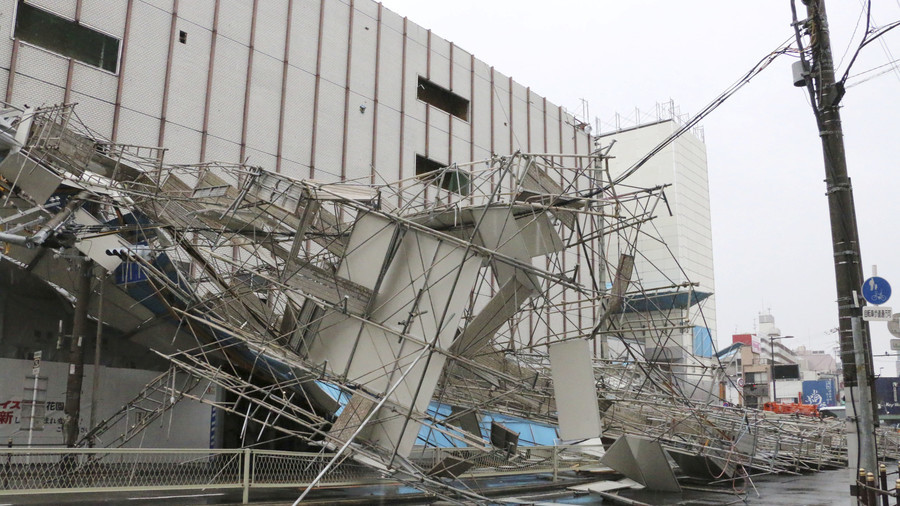 At least nine people have been killed and more than 300 injured in wake of typhoon Jebi, which battered the coast of Japan, overturning cars, disrupting air traffic, leaving thousands without power, and forcing mass evacuations.
Japan issued an evacuation alert to more than one million people on Tuesday and canceled hundreds of flights, as a powerful typhoon swept across the country, causing power outages, flooding, and massive commuter havoc.
Extreme weather conditions stranded about 3,000 travelers at Kansai International Airport, where 162 flights were canceled. Several planes were reported submerged up to their engines in water after the runway flooded. Early Wednesday, the airport operator began offering free ferry service to Kobe Airport in Hyogo Prefecture. Kansai Airport will remain closed all day Wednesday.
READ MORE: Fuel tanker smashes into bridge in Japan during massive typhoon (VIDEO)
The typhoon, packing winds of up to 208kph (129 mph), left about 1.6 million homes in Osaka and its surrounding areas without power. The strongest weather front to have hit Japan in over 25 years also caused disruption to ferry and train services. The Shinkansen high-speed train service from Tokyo to Okayama was suspended on Tuesday, while the Universal Studios theme park near Osaka is closed.
At least 9 people lost their lives due to the typhoon in the Kansai region, according to police, with at least two others remaining in critical condition. Jebi's power also forced at least one building to collapse, leaving another 236 structures in the region damaged, media reported. Overall, more than 340 people have been injured across Japan as the storm ripped through the Shikoku and Kansai regions.
The Japan Meteorological Agency noted that Jebi became a low-pressure system at 9am on Wednesday as it moved away from the Japanese coast.
Like this story? Share it with a friend!
You can share this story on social media: