Hundreds of migrants stranded in Libyan camps without food due to fighting – reports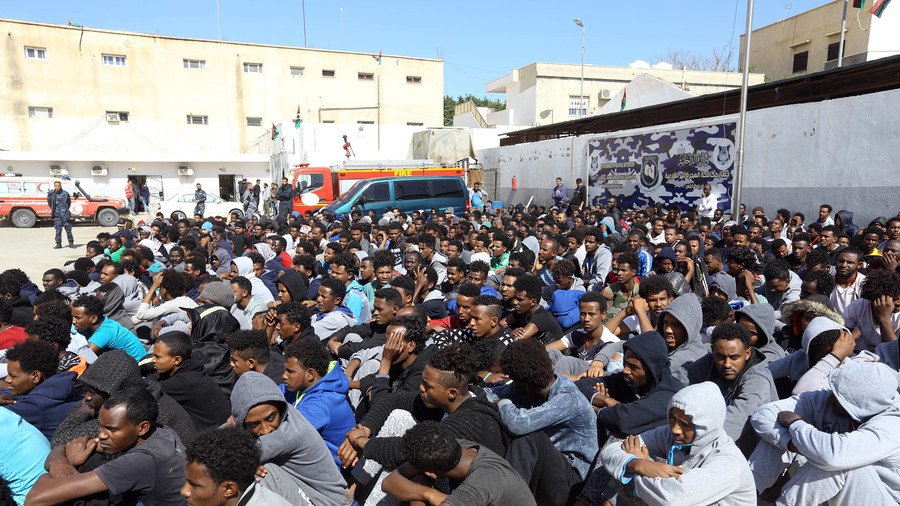 Men, women and children younger than five seeking to reach Europe have been reportedly abandoned without any food or water in the government-controlled camps in the Libyan capital as Tripoli once again plunged into chaos.
The guards stationed at the centers, which mainly host people intercepted by the Libyan coast guard as they tried to reach Europe by sea, fled over the weekend due to the intensified fighting between the rival groups in Tripoli, leaving the migrants and asylum seekers to their fate with no means of survival, Reuters reports, citing sources on the ground.
Hundreds of people were left behind only in one such government-run facility called Ain Zara and located in the southern part of the Libyan capital, one aid worker told Reuters on condition of anonymity.
"There are about 400 people locked in the Ain Zara detention center, among them 200 men and 200 women and 20 children under five years without food and water," the source said.
The exact number of people stranded in the abandoned Libyan camps is unknown, Reuters reports, adding that another source said that some 1,500 were trapped in another three detention centers. Some of them later fled while others were reportedly transferred to other facilities.
Torture, human trafficking and abuse have become the appalling reality of fractured Libya ever since NATO intervention and the fall of Colonel Muammar Gaddafi's government in 2011 plunged the "liberated" country into lawlessness and chaos. The issue caught attention of the media back in 2017, when a CNN report documented an alleged live slave auction in Libya, where African citizens were sold off for as little as $400.
On Tuesday, the UN migration agency said that migrants, who were recently rejected by Italy in a standoff with the European Union, had been held by smugglers in Libya for some two years before eventually allowing to set out for Europe. During that period, these people were subjected to various forms of abuse, including rape, torture and beating, the International Organization for Migration (IOM) said, citing testimonies of the migrants themselves.
"In Libya they complained that many had been beaten and tortured by smugglers and traffickers seeking ransom money from their families in their countries of origin," IOM spokesman Joel Millman said at a UN briefing in Geneva, adding that all migrants were malnourished and exhausted.
The conflict-torn nation, which saw rival parliaments and governments in the east and west come and go for years, has become a heaven for human traffickers and one of the major entry points to Europe, mostly for people from other African countries. Local warlords and tribal militias control significant part of the Libyan territory, determining the daily lives of people with little regard to the central authority and making the security situation even direr.
Over the weekend, Tripoli witnessed a renewed escalation of violence between the two major militant groups controlling the city, even though both of them are formally loyal to the UN-backed Government of National Accord (GNA) formed back in 2016. On Monday, AP reported that fierce clashes between the rival militias left at least five people dead and 27 injured. The United Nations Support Mission in Libya has voiced concerns over "the use of indiscriminate fire and heavy weapons in densely populated residential areas."
At least some European countries are apparently determined to make Libya a cornerstone of their new policy aimed at stemming the migration inflow to Europe. Italy in particular made a deal with Libya's GNA back in 2017, which envisaged using EU funds to train and equip the Libyan forces to patrol its coasts and bring migrants back, effectively subcontracting their rescue to the Libyan coastguard.
Italian government also repeatedly supplied Libya with boats to help it "fight human trafficking" and curb the flow of migrants into Europe. At some point, an Italian-flagged ship transported 108 migrants rescued at sea back to Libya in an event that drew attention of the UN High Commissioner for Refugees in Italy as the UN agency looked into possible violations of international law linked to the actions of the Italian vessel.
Europe also has recently devised a plan to limit the number of new arrivals by creating refugee centers in North African states. However, this plan soon wrecked on reality as GNA leader Fayez al-Sarraj said that his country would never take back asylum seekers rejected in the EU, nor will it agree to build refugee centers on its soil, even if such a deal would involve financial assistance from Europe.
Think your friends would be interested? Share this story!
You can share this story on social media: