'No place for the weak': Netanyahu threatens Iran & Syria at nuclear reactor ceremony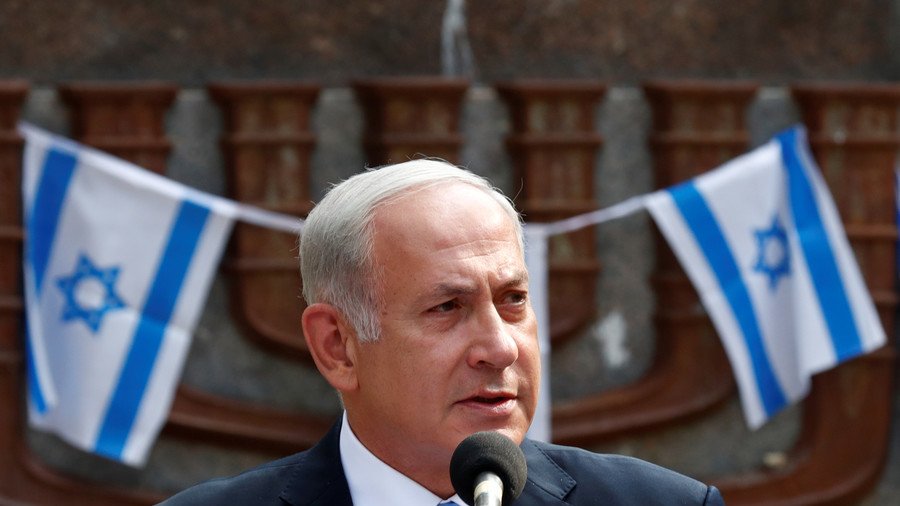 Israel will oppose Iranian presence in Syria with the same zeal it worked to destroy the nuclear deal, and hurt "whoever tries to hurt us," Prime Minister Benjamin Netanyahu said as he dedicated a nuclear reactor facility.
The Middle East is "no place for the weak. The weak crumble, are slaughtered and are erased from history while the strong, for good or for ill, survive," Netanyahu said on Wednesday, at the ceremony to rename a nuclear research facility in the Negev after the former Prime Minister Shimon Peres. "The strong are respected, and alliances are made with the strong, and in the end peace is made with the strong."
"But our enemies know very well what Israel is capable of doing. They are familiar with our policy. Whoever tries to hurt us – we hurt them," he added.

PM Netanyahu: Shimon aspired toward peace but he knew that true peace can be achieved only if our hands strongly grasp defensive weaponry. In the Middle East, and in many parts of the world, there is a simple truth: There is no place for the weak. pic.twitter.com/Quh681u47E

— PM of Israel (@IsraeliPM) August 29, 2018
As one example of Israeli determination, Netanyahu cited his efforts in bringing about the cancellation of the Iran nuclear deal, known as the JCPOA. Israel has opposed the arrangement from the beginning, and though he could not stop the US, UK, France, China, Russia and Germany from signing the deal in 2015, Netanyahu has lobbied for the US to abandon it - which eventually happened in May this year.
Now, Netanyahu said, Israel will pursue preventing Iran from establishing a military presence in Syria with equal determination.
"No agreement between Syria and Iran will deter us; neither will any threat deter us," he said. "Whoever threatens us with destruction puts himself in similar danger, and in any case will not achieve his goal."
Netanyahu credited Peres for setting up the Negev Nuclear Research Center at Dimona in 1958, as part of a vision of "normalisation between core countries in the Arab world and a strong State of Israel."
That process is "happening before our very eyes, on a scale that would have been impossible to imagine just a few years ago," Netanyahu said, likely referring to Israel's outreach to Gulf Arab states against Iran, which they all consider an enemy.
Israel has not signed the nuclear nonproliferation treaty and neither confirms nor denies having atomic weapons. Estimates put the Israeli atomic arsenal at anywhere between 80 and 400 warheads.
Think your friends would be interested? Share this story!
You can share this story on social media: