Russian heavy bomber Tu-160 executes mid-air refueling before landing in Arctic (VIDEO)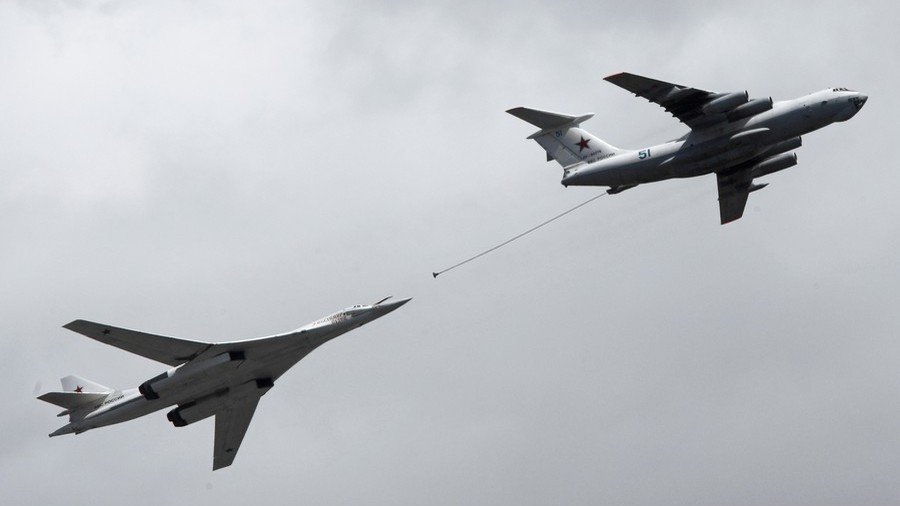 Video has captured the moment a Russian strategic bomber Tu-160 performed a mid-air refueling maneuver during a military drill. The stunt is considered particularly difficult, even by veteran pilots.
The footage, released on Thursday by the Russian Defense Ministry's official channel Zvezda TV, shows the large bomber Tu-160 (NATO reporting name – Blackjack) performing aerial refueling as it flies behind the Il-78 tanker.
The task is regarded as extremely difficult even for experienced pilots, considering that the two planes have to adjust speed and altitude and fly extremely close to one another. According to the Defense Ministry, two Tu-160s underwent refueling mid-air during the flight.
The planes covered about 8,000km (4,970 miles), travelling from the airbase in southwestern Russia to the city of Anadyr in the Russian Far East, where they conducted a first ever Arctic landing. The local airfield was recently redesigned to accommodate large warplanes.
The bombers' journey included imitating airstrikes and flying above the Arctic Ocean, the Defense Ministry said. In total, 10 large warplanes participated in the maneuvers.
Think your friends would be interested? Share this story!
You can share this story on social media: