Fake intercept? Russian MoD dismisses UK claims of chasing off six Su-24 bombers over Black Sea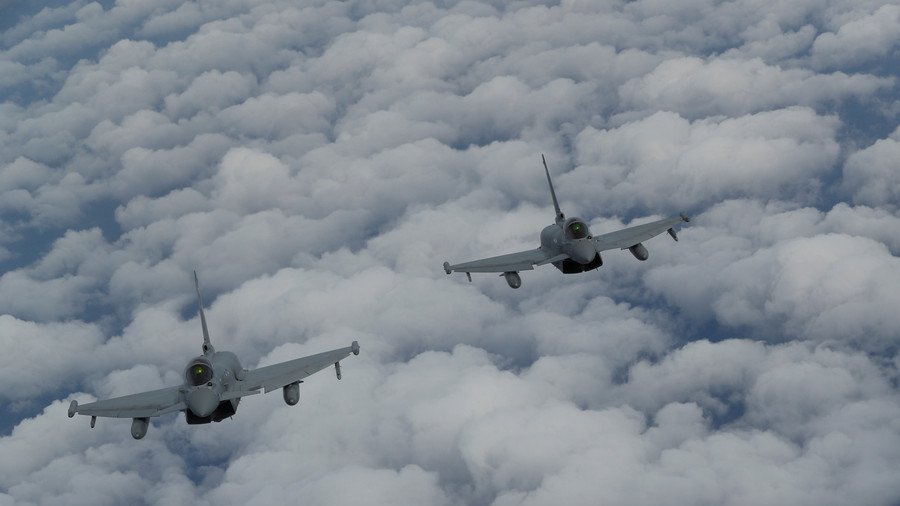 Russia has denied British claims that the Royal Air Force intercepted six Russian military jets over the Black Sea, saying the incident was a lot less dramatic and didn't feature a single Su-24 bomber mentioned in the reports.
Four aircraft from the Russian Black Sea Fleet naval aviation group carried out routine exercises above the Black Sea on Monday, the Defense Ministry spokesman told TASS, specifying that there were no Su-24 bombers in the group at all.
"After completing their flight task in the assigned area the Russian planes spotted a military aircraft of one of the NATO countries at the distance of 30 kilometers," he said.
The NATO plane "didn't make any maneuvers; didn't deviate from its course and didn't approach the Russian aircraft, which were heading back to base," the spokesman added.
Meanwhile, the British account of Monday's events looked more like a script for the 'Top Gun' reboot. The RAF announced that its Typhoons intercepted six Russian Su-24 bombers close to NATO airspace over the Black Sea on August 13 and forced them to turn back.
The jets, which took off from a Romanian airbase, helped "deter Russian aggression, reassure our friends in Romania, and assure NATO allies of our commitment to collective defense," the RAF statement said.
It's not the first time the UK has claimed to intercept Russian military aircraft in the area. In late July, it said that two Typhoons were scrambled after a Su-24 was discovered near the NATO airspace. The British jets also reportedly responded to a Russian Il-20 aircraft above the Black Sea in May.
READ MORE: Russian warship tracked down, watched 'stealthy' US nuclear sub in Med for hours – paper
The Royal Air Force has been present in Romania since 2014 as part of NATO's so-called Assurance Measures activities. The US-led block has been boosting its presence in Eastern Europe and the Baltics in recent years under the pretext of the "Russian threat." Moscow has repeatedly denied that it has any aggressive plans towards its neighbors and warned that NATO's moves jeopardized European security.
Think your friends would be interested? Share this story!
You can share this story on social media: