Rapping, racing & shooting: Turkmenistan's multi-talented leader strikes again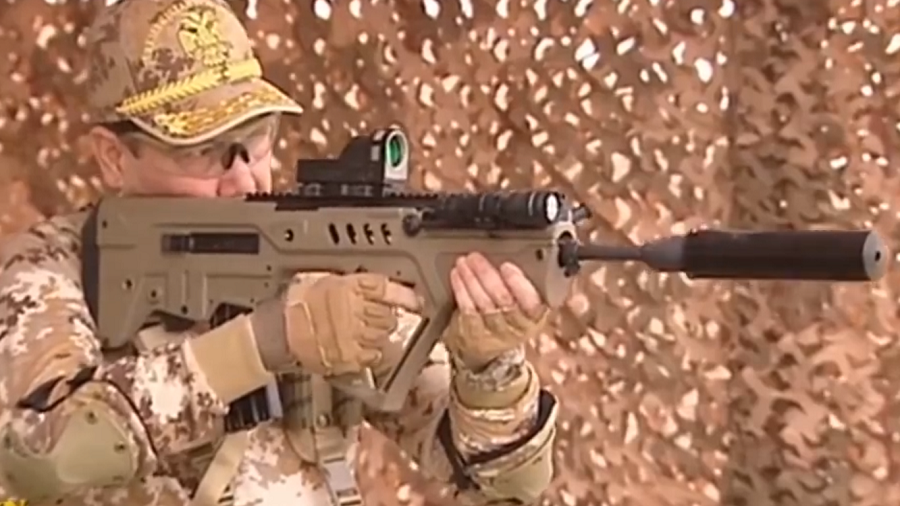 Long-standing Turkmen president Gurbanguly Berdimuhamedov has gone viral for his public stunts with horse-riding, car racing and even rapping. He's now shown a taste of his military skills with knives and guns in front of troops.
From high-speed tests on a racing track to nomadic Khan-inspired horseback inspection, Berdimuhamedov has a history of vaunting his talents – with videos of his stunts sometimes becoming an online sensation. Here are some of the most memorable ones.
'Yo bro!'
Just last month, the three-term president made headlines when he stood on a stage, in a bright red shirt and matching cap, and started rapping.

In a video, posted by news website the Chronicles of Turkmenistan, the president and his grandson sing while accompanied by guitars and keyboards.

"Here's a bowl of flowers and trees, here's a music of mountains and sea, beautiful sights of rivers and sky, all other beauties in Turkmenistan," the president's grandson, Kerimguly, can be heard singing in English.
The president himself sings in Turkmen and says his country's name several more times in a row.
Speed racer
On another occasion, Berdimuhamedov took things to the extreme as he was spotted racing and spinning like a girandola in his sports car, a BMW M3.

He was visiting a race track to inspect new rides which had been purchased for the
Interior Ministry when he decided to take matters into his own hands and test them
himself.
Just like a real racer, the video shows the president to be at ease as he drifts and speeds round the track.
Mounted inspection
Just a month before that, the president, who was re-elected in February 2017, appeared to emulate the nomadic Khans who once ruled his vast Central Asian country as he commandeered his subordinates from the top of his stallion.

Footage captures Berdimuhamedov wearing an Adidas tracksuit – in the national color of green – while he gives the mayor of the city and a representative of a French company instructions on a construction site they were commissioned to build.
The Turkmenistan leader is seen using his riding crop as a pointer while the two officials stand sweating in their suits as they rush to take down their superior's orders.
Rambo president
In August, footage emerged of the Turkmen president, who is also Supreme Commander of the Armed Forces, taking part in a different military drill marking the Day of the Frontier Guard.
According to the state's news agency, the head of state had travelled to the border force outpost in the south of the capital to review modern military equipment.
On the occasion, the agency reports, Berdimuhamedov "demonstrated his ability to skilfully handle cold steel by precise throws, which hit far-standing targets."
The stunt sparked attempts at satire too, with The Chronicle editing the footage to include cuts scenes from what appears to be Arnold Schwarzenegger's 1985 film 'Commando' that tells the story of a retired black ops commando waging a war against a South American gang.
The 61-year-old president was re-elected in February 2017, attracting 97 percent of the vote. In 2016, the parliament trimmed the constitution to allow him to serve unlimited terms in office.
Like this story? Share it with a friend!