Unsinkable commitment: Filipino couple marries in church flooded after heavy rains (PHOTOS, VIDEO)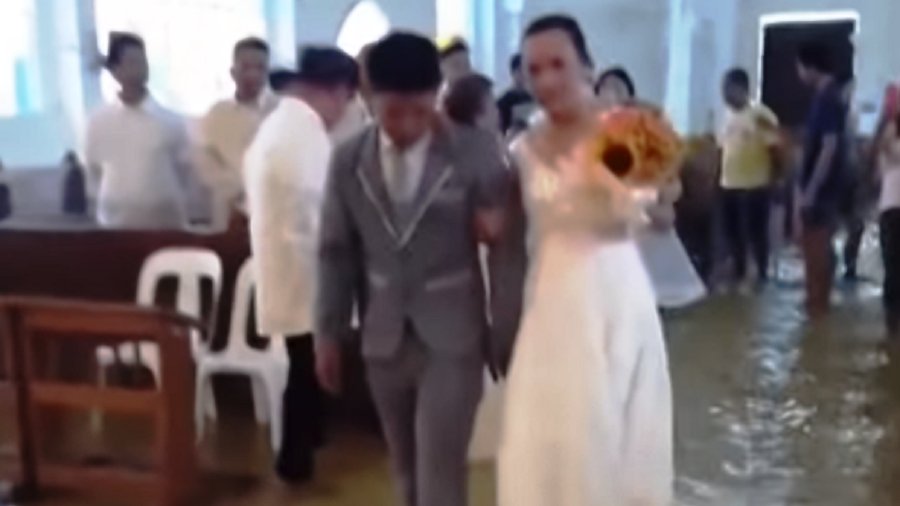 A Filipino couple has proven that nothing stands in the way of true love or can stop your wedding…even if you have to make you way to the altar knee-deep in murky waters.
The potential to get wet during their wedding ceremony did not scare off Jefferson and Jobel de los Angeles. The couple exchanged their vows on Saturday despite rather extreme conditions – the Santo Rosario Church in Hagonoy, Bulacan, was flooded after heavy rains and storms hit the area.
The video initially posted by the bride's aunt, Tere Bañarez Bautista, showed the beaming woman in white dress marching down the aisle accompanied by her parents. Her groom was bravely waiting for his beloved one there. Dressed up but barefoot guests and relatives are also seen all smiles on the photos.
The couple had yet another reason not to postpone the celebration as one of their two children was baptized the same day in the same church.
Southwest monsoon enhanced by nearby tropical storm 'Yagi' has recently caused heavy rains that resulted in flooding across the Philippines.
Think your friends would be interested? Share this story!
You can share this story on social media: