Syrian artists transform militant-built tunnels into sculpture galleries (VIDEO)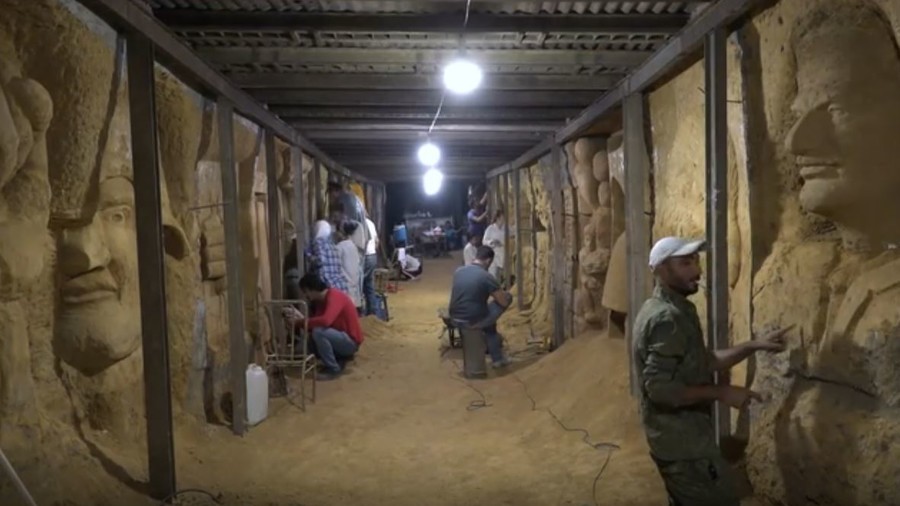 Formerly a hiding place for militants, the underground tunnels in Syria's liberated Eastern Ghouta are now transformed into an artistic exhibition. Their walls are being turned into sculptures with scenes of battle and bravery.
A network of tunnels was discovered in Jobar, Eastern Ghouta, in April following the liberation of the Damascus suburb. The tunnels which extend for several kilometers were used to connect militant-run underground bases and hospitals.
READ MORE: Syrian Army discovers tunnel network, underground hospitals in liberated E. Ghouta (VIDEO)
The bare walls are now being given a dramatic makeover as Syrian artists work together to create sculptures in tribute to the Syrian people.
Footage by RT's video agency Ruptly shows artists each working on a segment of the wall perfecting sculptures of soldiers, women and children.
Following the liberation of Eastern Ghouta, the Syrian Army discovered a whole network of tunnels connected to militant positions and underground bases permeating Damascus districts and towns such as Douma, Jobar, Ayn Tarma, Arbeen, and Zamalka. Footage from under Douma showed vehicles easily moving through the vast tunnels, reinforced by metal pillars.
READ MORE: City beneath city: RT films massive network of militant-built tunnels under Syria's Douma (VIDEO)
Like this story? Share it with a friend!
You can share this story on social media: