10ft shark terrifies tourists & shuts down beach after being attacked by ray (VIDEOS)
Published time: 3 Aug, 2018 16:42
Edited time: 4 Aug, 2018 09:56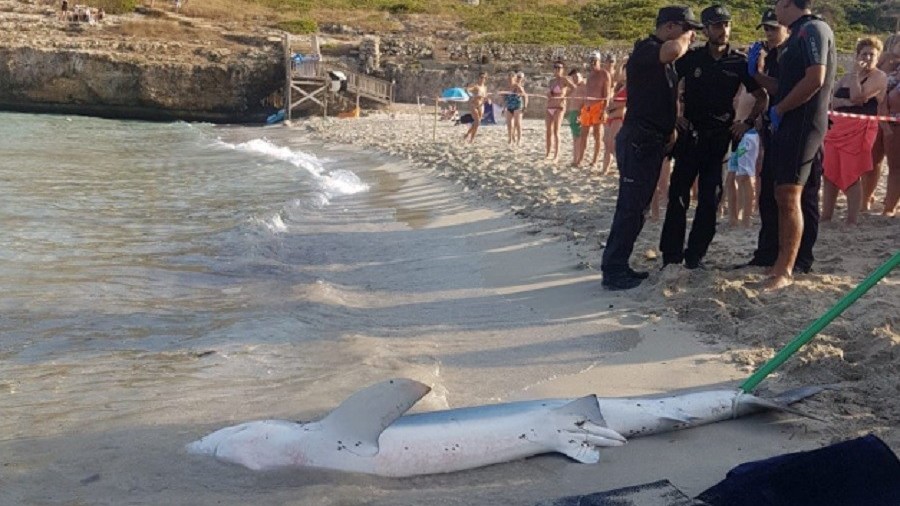 A 10ft long shark terrified tourists in Mallorca, Spain on Thursday, sparking the evacuation of a beach as the large fish lingered in the shallow waves of Cala Domingos.
The tintorera shark appeared in the waters on Thursday, swimming close to the shoreline and causing panic among holidaymakers who fled the sea. The beach was shut down as a precaution.
The Palma Aquarium's Recovery Center said it was contacted about the shark and was told it "had ended up writhing on the sand and the lifeguards had put it back in the water," but it continued to return to the shoreline, the Telegraph reports.
The shark was in distress, and a decision was made to put it out of its misery. It was taken from the water and dragged away by a group of police officers and lifeguards before being injected with a tranquiliser and euthanized.
"I have my doubts that he was not already dead when we injected him with the solution," Guillem Felix of Palma Aquarium told Diario de Mallorca.
A necropsy revealed the unlucky creature had been stung by a ray on its snout, which Felix explained is "key in the anatomy of this animal" as the nose is where all the nerve endings that flow into a shark's brain are concentrated. The sting caused the shark to lose both its sense of smell and direction.
Like this story? Share it with a friend!