50 arrested after city council session descends into fist-fight in Ukraine (VIDEOS)
A heated debate about a city budgeting issue in Ukraine escalated into a mass brawl, ending with police arresting almost 50 "active violators" in the aftermath.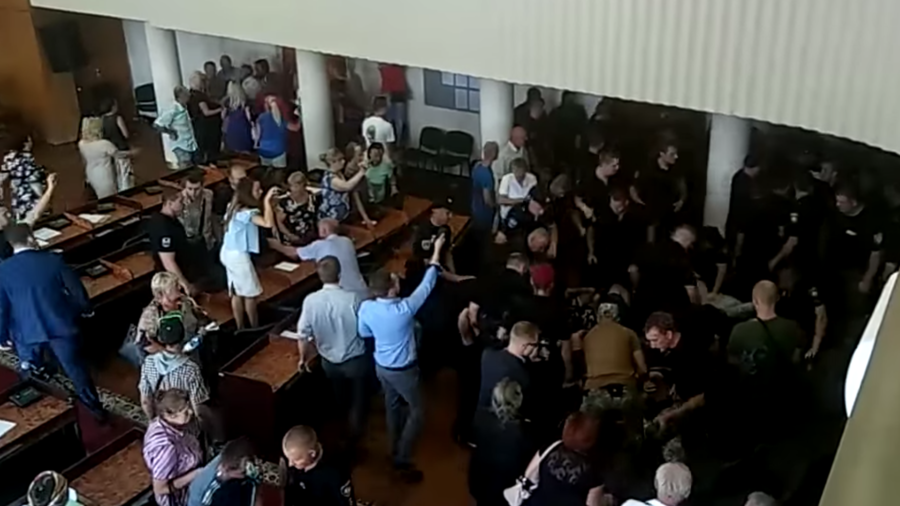 Mass clashes between supporters of Artem Semenikhin, the Mayor of the city of Konotop in northern Ukraine, and his opponents forced local police officers to intervene "to prevent mass riots and civilian casualties,"according to a police report. At the end of the scuffle, in which seven police officers and two civilians were injured, law enforcement detained "46 most active violators of public order" from both sides.
Thursday's showdown started over the refusal by the mayor and his team to adopt the budget for 2018. After several hours of vocal disputes to solve the months-long stalemate, some of the opponents of Semenikhin demanded his resignation. The mayor's supporters opposed, and the conflict escalated into a brawl. Footage of the fight shows officers restraining a belligerent activist.
Those detained will be charged with resisting an arrest, attempts to inflict bodily harm and intentional infliction of serious bodily harm to law enforcement officers. Mayor Semenikhin called the incident an attempted coup.
Threats and violence have become all-to-common tools to settle political scores in modern Ukraine. A similar episode happened in the western city of Lviv two weeks ago, when a group of nationalists, who wanted a healthcare chief to be sacked, clashed with municipal guards during a city council session.
If you like this story, share it with a friend!
You can share this story on social media: