Space race-ism! Have Russians banned black astronauts from Soyuz missions?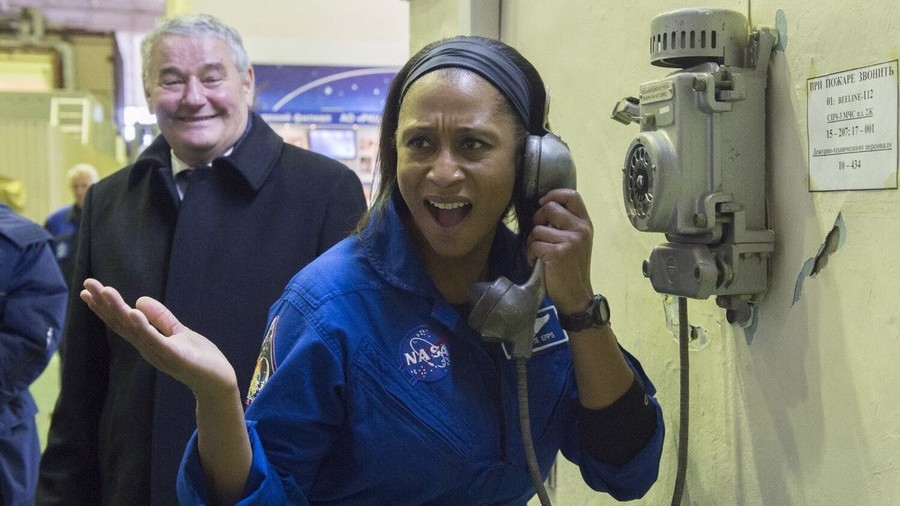 Space is one of the few areas of Russia-US cooperation that remains relatively unmarred by the politics. Or is it? Have the pesky Russians been quietly sidelining black NASA astronauts from space missions?
During a Monday aerospace conference hosted by the Center for Strategic and International Studies, moderator Todd Harrison blindsided NASA Administrator Jim Bridenstine by asking: "Why are none of the 52 astronauts launched on board Russian spacecraft over the years African American? What's going on?"
In the trendy vein of Russia conspiracies Harrison continued: "Are the Russians refusing to launch African American astronauts?"
Turns out, they aren't – unless it's a plot so clandestine that the chief of NASA himself has no knowledge of it. "If that is the case, I have never heard of that," a baffled Bridenstine answered. He promised to "start asking that question," though.
Then the former NASA Administrator, Charles Bolden, himself an African-American who flew to the Russian Mir space station in 1994, called out the notion of Russian space racism for what it is.
"I'm not sure where that conjecture came from, but it's absurd," he said, later adding: "I never saw any indication in the whole time I was the NASA Administrator from communicating with head of Roscosmos and cosmonauts themselves that they ever had any problems at all with anybody that we decided we were going to fly."
Bolden suggested looking closer to home. "More problems here than there," he said to the audience's awkward laughter.
Harrison also brought up the issue of Jeanette Epps, who was slated to become the first African American astronaut to live on the International Space Station.
"She had trained with the Russians, was going to go up with them," he pointed out. Epps was removed from the mission earlier this year, without any official explanation. NASA caught quite a bit of flak after Epps' removal: her brother ranted against the agency on social media, accusing it of "oppressive racism," and an online petition to reinstate her was launched.
Epps herself said she did not know where the decision came from or when, but she had trained in the US, Germany, Japan and Russia, passed all the tests and was all set to fly.
NASA at the time responded to the backlash with a generic statement on how "diversity and inclusion are integral to mission success."
READ MORE: UK space agency launch competition: Will the new Mars rover become the next Boaty McBoatface?
American astronauts have been dependent on Russian Soyuz craft to fly to the ISS since the use of US Space Shuttles was discontinued by NASA in 2011.
The first person of African heritage in space was Arnaldo Tamayo Mendez of Cuba, launched in 1980 by the Soviet Union. NASA sent the first African-American astronaut, Guion Bluford, three years later.
Think your friends would be interested? Share this story!
You can share this story on social media: