US and allies sink USS Racine as China watches Pacific exercise (VIDEO)
Published time: 16 Jul, 2018 14:49
Edited time: 17 Jul, 2018 08:13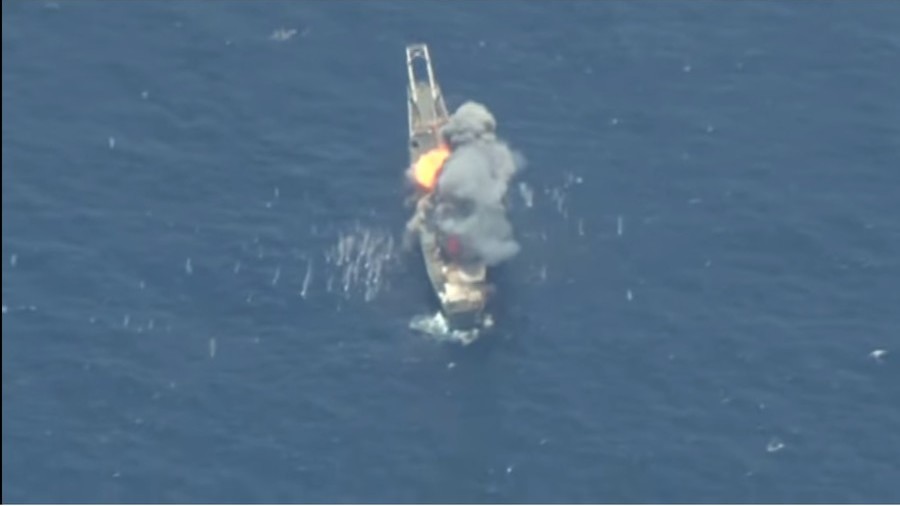 Australian, Japanese and US troops have banded together to sink the decommissioned USS Racine during the Rim Of The Pacific (RIMPAC) 2018 naval exercise.
The USS Racine was a Newport-class of Landing Ship, Tank (LST) and served for 22 years before being sent to rest in Pearl Harbor in 1993. However in January the US Navy announced that it would be used for target practice during the RIMPAC 2018 exercise. The sinking drill took place on Thursday last week.
The SINKEX involving the ship was the first in RIMPAC history, in which land-based forces participated. The Japan Ground Self-Defense Force and the US Army forces fired surface-to-ship missiles at the hulk from some 100km while an Australian P-8A Poseidon maritime reconnaissance aircraft was providing targeting data.
The attack submarine USS Olympia then fired a Harpoon missile and a Mk-48 torpedo to finish the job. The exercise was observed by a Chinese Type 815 Dongdiao-class surveillance vessel from afar.
The Chinese Navy was 'disinvited' from the RIMPAC 2018 exercise just weeks before it began on June 29. China took part in two previous installments of the exercise in 2014 and 2016.