1 killed, several injured as car hits people in Sochi, Russia, driver presumably fell asleep (VIDEO)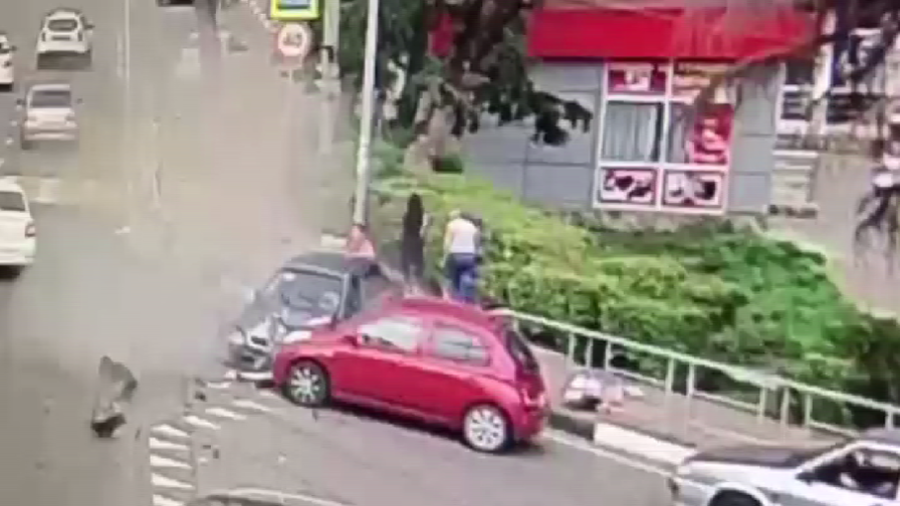 A car crashed into pedestrians in the tourist village of Dagomys in Sochi on the Russian Black Sea coast, killing one person and injuring several others on Wednesday. The driver presumably fell asleep behind the wheel.
A Nissan drove onto the sidewalk near a pedestrian crossing and ran over several people, the police said. "As a result of the accident, a local 63-year-old man has died at the scene, while three other pedestrians were hospitalized with various degrees of injuries," they added.
The driver of the car was a local man in his early 20s who, "according to preliminary data, fell asleep behind the wheel, drove through the incoming traffic and crashed into the pedestrians."
The investigators have been working at the scene of the accident and are considering launching a criminal case against the driver.
CCTV cameras have caught the moment the black car runs up onto the pavement at high speed, sending people into the air before crashing into another vehicle.
Sochi's Public Health Department told RIA-Novosti that ambulances have delivered five of the injured to one of the city's hospitals. None of the patients were in a life-threatening condition, medics added.
During the police interrogation, the driver said that he fell asleep and didn't remember how he ran over the people, an informed source told Interfax. The young man also told the investigators that he had been working in taxi and spent two days behind the wheel without rest prior to the crash, the source added.
The village of Dagomys is a district of Sochi, located 12 kilometers from the city center. On Saturday, Sochi will host Russia's quarterfinal match against Croatia in the FIFA World Cup.

Think your friends would be interested? Share this story!
You can share this story on social media: