Dozens plunge into truck as roof collapses during fireworks display (VIDEO)
Published time: 24 Jun, 2018 19:06
Edited time: 25 Jun, 2018 09:05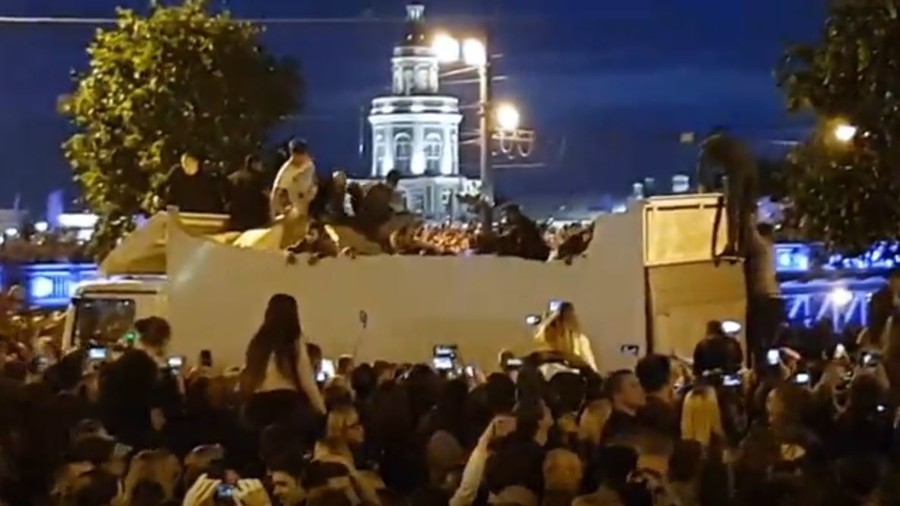 The roof of a truck, which was crowded with revellers hoping to get a better view of a fireworks display, collapsed under their weight in St. Petersburg on Saturday.
Video from the incident shows dozens of people crammed together on top of the truck when the vehicle's roof suddenly falls apart, causing those on top of it to fall into the truck. A couple of people can also be seen plunging over the side of the truck onto the ground.
The party-goers then quickly climbed out of the vehicle before a spectacular firework display lit up the night sky.
One woman was reportedly injured in the incident. Police say they are looking for those involved and are assessing the damage to the truck.
The incident happened at the 'Scarlet Sails' fireworks display - a celebration dedicated to young people who are graduating from school. It dates back to the post-World War Two era when Leningrad school students were inspired by Alexander Grin's popular 1922 children's book 'Scarlet Sails' (also known as 'Crimson Sails').
Millions of people, including those in the city for the World Cup, gathered for the climactic event of the annual White Nights festival.