French priest suspended after video of him slapping toddler during baptism goes viral
Published time: 23 Jun, 2018 14:35
Edited time: 24 Jun, 2018 07:32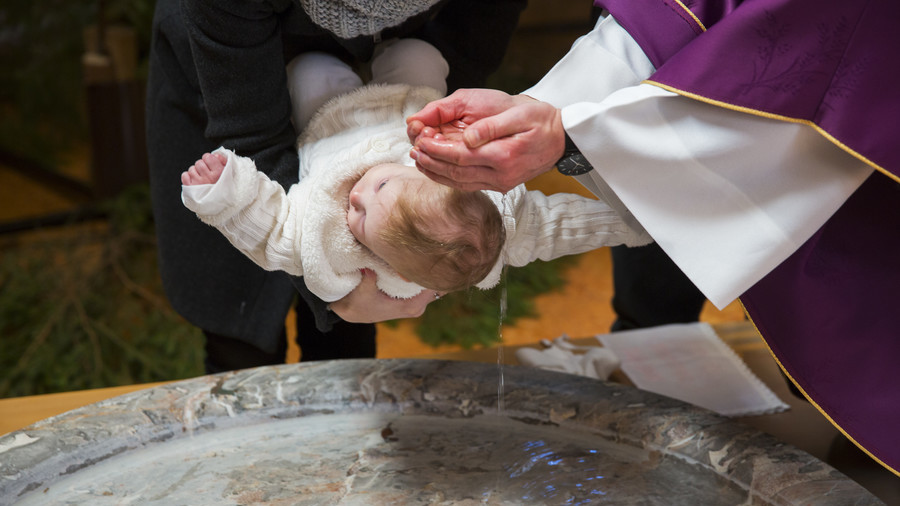 A French priest seen slapping a baby for crying during baptism was suspended, the church has confirmed. The video, viewed over five million times on social media, sparked widespread condemnation and outrage.
On Friday, the Roman Catholic Diocese of Meaux, where Father Jacques Lacroix, 89, served, said that it took measures to ensure the priest was suspended from all baptism and marriage celebrations. He is now only allowed to conduct mass by special request of the parish.
READ MORE: Priest loses temper & slaps toddler during baptism (VIDEO)
"This loss of coolness can be explained by the tiredness of this elderly priest, but that does not excuse him," the diocese stated, adding that the video, viewed over five million times on social media, only provokes indignation.
The notorious footage of Father Jacques performing a bizarre baptism ceremony in the Collegiate Church of Champeaux in the Paris suburbs went viral on Wednesday.
In the video, the visibly frightened baby boy is seen crying, which apparently annoys Father Jacques. After the clergyman's attempts to calm the child fail, he slaps the child and says, "calm down" in front of the toddler's shocked parents. For a moment, the boy's family is speechless, until the father grabs the child out of the priest's arms.
Speaking to France Info radio later on Friday, Father Jacques denied that the slap was too severe. "It was somewhere between a caress and a slap, I hoped to calm him down, I didn't know what to do. The child was screaming a lot and I had to turn his head to pour water over it," he said.
The priest said that he apologized for his "clumsiness" to the family, adding that he was ending his ministry. "It was my last baptism, there is an end to everything."
The priest's actions created an uproar on social media, with people across the globe slamming his behavior. Some said that he was the last person on Earth they would hand their children to, calling upon the church to fire him. "He is not a priest," "He is a freak who should be suspended," "[The child] didn't want to be near the 'priest,'" shocked viewers wrote.
This is inhumane !! How dare he to do that???

— Farid Maidi (@faridmaidi) June 21, 2018
Think your friends would be interested? Share this story!