'Wolf pack' sex gang: Granting of bail to convicted abusers sparks protests in Spain (PHOTOS,VIDEO)
Published time: 22 Jun, 2018 12:54
Edited time: 23 Jun, 2018 14:27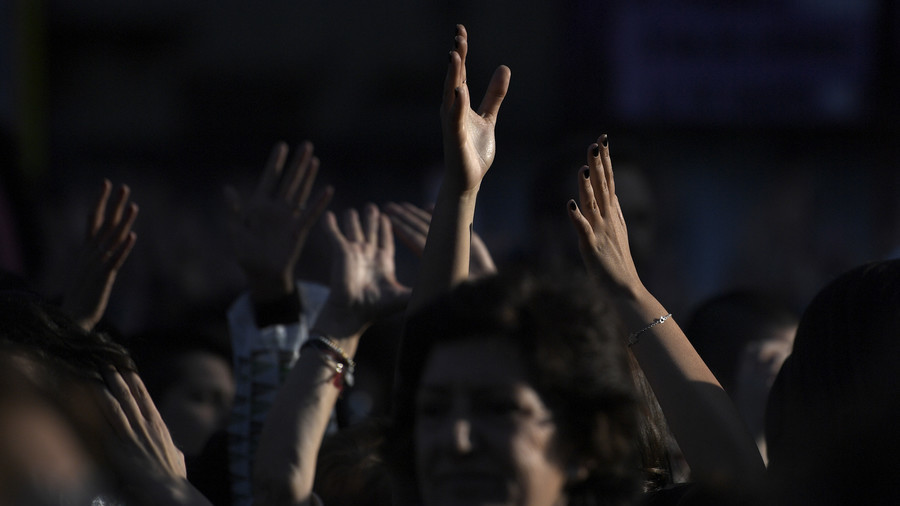 Protesters have taken to the streets in Spain after a group of men, acquitted of rape but found guilty of sexually abusing a teenager at the bull running festival in Pamplona, were granted provisional release from prison.
In April, the five men, known as the 'Wolf Pack,' were cleared of gang raping a teenager but sentenced to nine years in prison for sexually abusing the young woman during the 2016 Running of the Bulls in Pamplona.

Prosecutors seeking a conviction for rape and other charges, had sought sentences of nearly 23 years for the men and lodged an appeal following the verdict.
READ MORE: Two former Tory mayors found guilty of child-sex offences in just 48 hours
Navarre Regional Court ordered the release of the men, Thursday, pending the outcome of the appeal.The judicial decision sparked mass protests with demonstrators chanting "it's not abuse, it's rape."
The men dubbed "La Manada" meaning "wolf pack," after the name given to their group chat on WhatsApp, were asked to pay a set bail of €6,000 per person by the Navarre Regional Court before release.
The court justified its decision to release the men until their ruling is finalised by arguing that their place of residence, Seville, is far away from the 18-year-old victim's own home city of Madrid, and stating the defendants did not pose a flight risk.
The men have been held in custody since July 2016. Under Spanish law people cannot usually be held for more than two years without a definitive sentence being handed down.
Outraged citizens took to Twitter to voice their opposition to the decision and burn images of the five men.
The outcome of the high profile case sparked huge protests at the time and ushered in calls for legislative changes. Under Spanish law violence and intimidation are necessary requirements for rape. In this case, the court admitted that the woman's consent was compromised but ruled there was no violence or intimidation and convicted the men of the lesser offense of sexual abuse.
During the trial it was revealed that the group, which includes a former policeman and a former soldier, took a video of the incident and joked about it in a Whatsapp group.
The court heard that the men, who denied wrongdoing, "pushed" the girl into a deserted hallway and told her to "shut up" before all engaging in sexual activity with her. She "adopted a passive, submissive stance" because she felt trapped and afraid, according to the sentencing document. Further protests are planned by women's groups across the country for Friday.
Think your friends would be interested? Share this story!