Taxi driver loses control & accidentally drives into crowd in Moscow (VIDEO)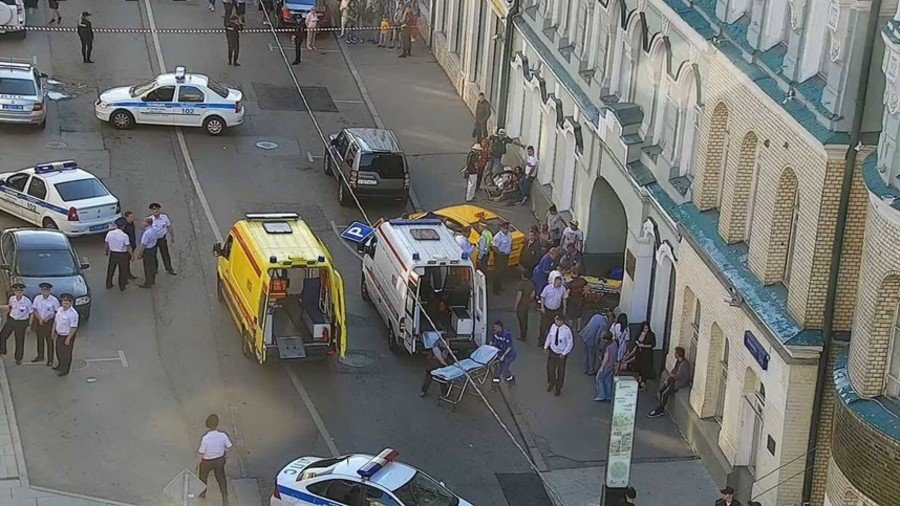 A Moscow taxi driver reportedly lost control of his car and drove his vehicle onto a crowded sidewalk, injuring seven people, including two Mexican nationals who had come to Russia for the World Cup.
The accident occurred on the busy Ilyinka Street near Red Square, where many tourists and locals were out celebrating the Russia 2018 Mundial. Video footage of the crash shows a yellow cab abruptly accelerating out of the line of slowly moving cars and swerving onto the sidewalk. The vehicle ran into several pedestrians then crashed into a road sign.
Six pedestrians were slightly injured, while one woman received medium injuries, according to authorities. The Mexican Embassy confirmed two of their citizens were hurt.
The driver attempted to flee the site of the crash, with a visibly angry crowd chasing him, footage shot by bystanders shows. It remains unclear whether people apprehended the suspect, or if police got to him first.
"According to preliminary data, the crash occurred when the driver lost control of the car," Moscow police said, after questioning the detained suspect and launching a criminal probe into the incident.
The man, who insists he had not driven into the crowd on purpose, had a Kyrgyz driving license and had worked as a taxi driver in Moscow for just about a month. According to sources familiar with the investigation, the driver was not drunk and claims he fled only because he was disoriented and scared. He reportedly said he was falling asleep after working all night, and had "accidentally" pressed the accelerator instead of brakes.
Photos of the man's car, posted by the city's traffic authority, showed it where it came to a halt, without its fender and straddling a fully-bent signpost.
Think your friends would be interested? Share this story!
You can share this story on social media: