Baghdad denies that US is setting up base at Iraq-Syria border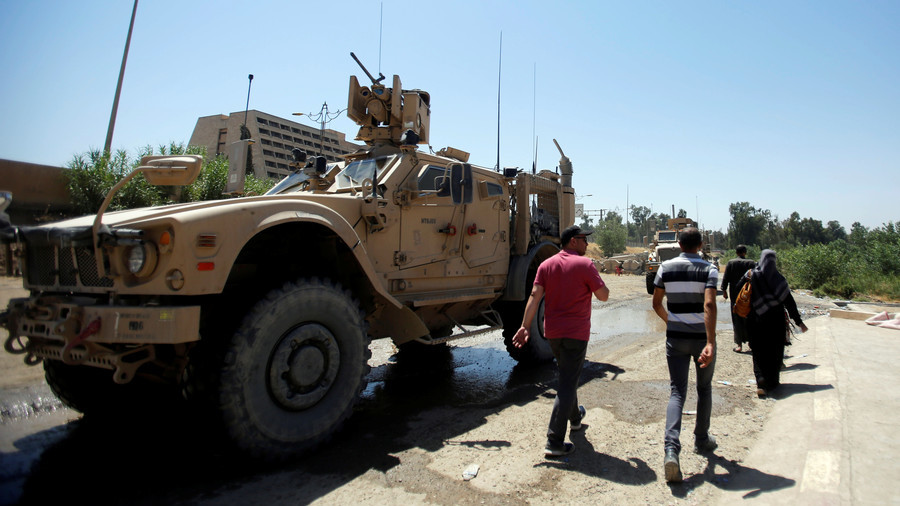 An Iraqi general has rejected reports that a US military base is being built on Mount Sinjar. A local official had earlier claimed that the Pentagon would use it to fight Islamic State terrorists and Iran-backed Shia militias.
Multiple reports of the Pentagon setting up a base on Sinjar Mountain are fake, the commander of military operations in Iraq's Nineveh province told the media on Sunday.
"The US advisers are stationed in Mosul, Qayyarah and in other districts of Nineveh, but they are deployed there on an everyday basis," Major General Najim al-Jubouri explained, while speaking to London-based paper Ashraq al-Awsat.
The statement was made after reports of a column of 15 US armored vehicles arriving at Sinjar began surfacing in Kurdish and Turkish media. On Friday, Erbil-based outlet Kurdistan 24 published photos of what it said was a US army convoy. The images show several pieces of American-made hardware driving along an outpost.
Local officials cited by the outlet claimed that the convoy is stationed near one of Sinjar's peaks, and that the Pentagon is preparing to stay there. The mayor of Sinjar told the same outlet that the US would use the new base to fight off Iran-backed Shia militias, preventing them "from controlling the mountain or blocking the area so it becomes an Iranian corridor to Syria, which could eventually lead to a regional war."
Shia armed groups, known as Popular Mobilization Forces (PMF/PMU), were organized to fight IS (Islamic State, formerly ISIS) after it captured large chucks of Iraq in 2014. The militias mostly receive training and arms from neighboring Iran, but are supported by the central government in Baghdad as well. In March, the Iraqi prime minister signed a decree formally installing the PMF as a national security force.
Sinjar Mountain is a strategic location around 125km (77.6 miles) west of Mosul, and is situated near the Iraq-Syria border. The border itself is a battleground against IS, with the US and its allies hoping to wipe out remaining pockets of jihadists. On May 1, the Pentagon and the largely Kurdish Syrian Democratic Forces (SDF) launched Operation Roundup, a large offensive against IS in Syria and Iraq along the Euphrates River valley.
The issue of US military presence is a contentious one in Iraq. In March, the Iraqi parliament demanded that the government set a clear timeline for the withdrawal of US forces. Several days later, NATO Secretary General Jens Stoltenberg met Iraqi Prime Minister Haider al-Abadi in Baghdad and confirmed that NATO forces are staying "because Iraq wants us to be here."
Think your friends would be interested? Share this story!